World news story
Chevening Scholars from Nigeria for 2013/14
This was published under the 2010 to 2015 Conservative and Liberal Democrat coalition government
Some of this years Chevening scholars for Nigeria, share their thoughts on what it means to them and their careers.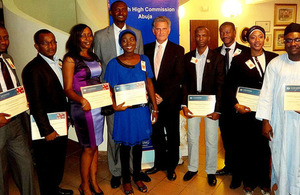 Mahmoud Yakub Ma'aruf
Master of Science and Medical Statistics, London School of Hygiene and Tropical Medicine
I feel super excited, it is a lifetime opportunity, it is a dream for me to go to this prestigious university.

When I come back I would like to continue working in public health in the more specialised area of medical statistics. I would like to transfer the knowledge and skills I have learnt from the London School of Hygiene and Tropical Medicine to my colleagues, to teach and to take part in consultancy services.
Dr Chidubem Ogwulu
Health Economics and Health Policy (MSE), University of Birmingham
I feel highly privileged and honoured. I think it is one of the best scholarships ever.

When I return I plan to complete my residency program and then see what I can contribute to my country. I plan to look for a position either in the Ministry of Health, or an international health organisation where I can make a concrete contribution in health and policy making.
Chidezi Nnanna Anyanwu
MBA, Cranfield University
I had a sense of accomplishment. I was amazed when I got the offer. To be one of 700 is an amazing accomplishment

Since the work place has become more and more competitive, we are looking at developing engineers that have certain specific skills set, and therefore help them improve their ability to deliver value to the system. Shell as a company are having issues with regards to getting high quality people
Hadiza Saeed
International Law, security and Terrorism, University of Nottingham
I was elated, ecstatic, it's hard to describe, it was like a real fist pumping moment.

I think I am the first person that would have this qualification in the judiciary. I am hoping I can contribute to change, to improve progress in the Nigerian judiciary
Foluso Hafeezat Ishola
Public Health, London School of Hygiene and Tropical Medicine
Not to sound too exaggerated, but I was super super excited!

My plans for when I return have a lot to do with what I intend to gain over there, because I intend to gain a global knowledge of public health. Organising good community health programs actually it's very important, and can be learnt by getting a global perspective of how public health works. Getting this knowledge will go a long way in helping us strategise on how to go about solving basic public health problems in Nigeria.
Abrahima Funsho-ako
Education and International Development, Institute of Education, University of London
I felt humbled I guess, that is all I can say.

When I come back I intend to apply what I have learnt to the engineering education sector through the Ministry of Defence. Through the Ministry of Defence I will cast my voice onto the state government, that is my plan.
Document information
Published: 30 August 2013