World news story
Chevening in Ecuador
Dare to lead and apply for a Chevening scholarship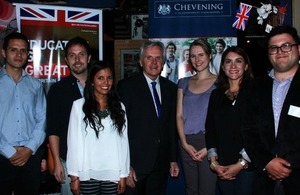 Over the last few years, exceptional young professionals in Ecuador have benefitted from the prestigious Chevening scholarship from the British Government, for a one-year master's degree in one of the best universities from the UK. Their subjects include Journalism, International Trade, Economics, Human Rights, International Affairs, Sustainable Development, and more. There currently 21 Chevening scholars since the year 2012.
The relationship between the British Embassy and British alumni is very close. Apart from keeping the British spirit alive in Ecuador, Chevening alumni have the opportunity to bid for Embassy's bilateral cooperation funds for projects in their different areas of expertise. We have installed renewable energy systems in key areas of the country such as Quilotoa, Yasuni National Park and the Galapagos Islands, thanks to the initiatives of British alumni who acquired knowledge in this area while studying in the UK.
Similarly, various British alumni are members of the British-Ecuadorean Chambers of Commerce in Quito and Guayaquil, and are contributing greatly to strengthen commercial ties between both countries.
The UK's higher education offer is truly world class, with five of the top twenty universities worldwide, and six of the top ten universities in Europe. Being part of the Chevening community is a unique experience to stand out both personally as professionally. Dare to lead, apply for a Chevening Scholarship.
Get the latest news in our Twitter account and follow the British Ambassador Patrick Mullee or check out our Facebook page.
Published 11 August 2016