World news story
Chevening Farewell
The British Ambassador in El Salvador, Mr. Bernhard Garside, delivered a farewell speech, to the new 2015 Chevening scholars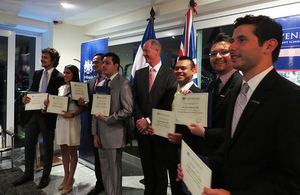 "I welcome you all here today for this special event and thank you for coming.
I would particularly like to welcome our 7 new Chevening Scholars and our past scholars.
This is a momentous day. It is the first time we have been able to offer so many scholarships and we are working to increase the numbers again for the future. Today marks the end of the process in which our seven scholars have had to prepare for their scholarships. It also marks the beginning of their adventure which will take them to the UK for the next year.
I would like to congratulate the 7 scholars for their fantastic achievements. Their families can be very proud of what they have attained – we can all be very proud.
These 7 Scholars will be joining around 1500 other Chevening students from across the world when they go to the UK. They will be attending just a few of the best universities the UK has to offer – some even considered to be in the best ten universities in the world.
It is therefore not an accident that the UK has more Nobel Prize winners than any other country except the USA. The Chevening scholarships programme was established in 1983 and is offered in over 160 countries excluding the EU and the US. You are now part of a prestigious international scholarship and fellowships scheme with an incredibly influential global alumni network with over 44,000 alumni. We will hear shortly from Tanya Grande. She is one of those alumni.
All this is funded by the Foreign and Commonwealth Office and partner organisations. But this is not just about sending students off to study in the UK. We chose you because we believe you have leadership potential. We want you to come back from the UK and build your expertise in this country. We want you to lead by example, with professionalism and pride, setting a clear example to others.
But I also want you to enjoy your experience. This is an opportunity to live in a country (my country) with incredible diversity, culture, music, history and many other things. I want you to study hard, but I also want you to experience everything you can, so that you can come back to El Salvador with its wonderful sunshine, beautiful landscapes and beaches and share some of those experiences.
I would now like to invite our 7 Chevening Scholars to come forward and accept their awards".
Published 10 September 2015