World news story
Chevening applications process for 2015/16 now open
The competition for 2015/16 Chevening Scholarships in Namibia opened on 1 August 2014 and closes on 15 November 2014.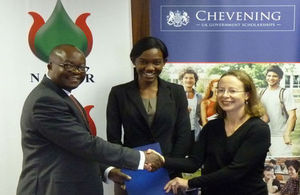 Today, the British High Commission and the National Petroleum Corporation of Namibia (Namcor) signed a MoU regarding the co-sponsoring of a Chevening scholarship holder to study Petroleum GeoSciences at the Royal Hollaway, University of London, as part of the UK government funded Chevening scholarship programme for 2014/15.
The competition for 2015/16 Chevening Scholarships in Namibia opened on 1 August 2014, and closes on 15 November 2014. All applications must be made through 'eChevening', the online Chevening Scholarship application system. Guidance for applicants and a link to eChevening is available on www.chevening.org.
Chevening Scholarships are UK's funded by the Foreign and Commonwealth Office (FCO) and partner organisations and are an important element in Britain's public diplomacy efforts. They bring young professionals, who have already displayed outstanding leadership talents, to study in the UK.
The British High Commissioner, H.E. Marianne Young, highlighted: "The Chevening Scholarship is a unique opportunity for future Namibian leaders to build their skills whilst developing an international network to help benefit their professional lives. The scholarship allows Namibians to develop their own capacity to grow as a person and enables participants to establish social, cultural, academic and commercial partnerships with the United Kingdom. We hope that this year the scholarship will continue to attract rising professional talents from Namibia."
Awards for Namibians are typically for a one-year Master's degree in the subjects trade, human rights, governance, media, and climate change, and at any of the UK's leading universities.
Many Namibian Chevening scholars have gone on to reach positions of influence in a range of sectors: some work as MPs, leading journalists, opinion leaders or policy advisors to NGOs and think tanks; others occupy senior positions in public and private organisations.
Chevening Scholarships operate in 160 countries worldwide, and this year will support over 1500 individuals around the globe. Chevening Scholarships are for talented people who have been identified as potential future leaders across a wide range of fields: including politics, business, the media, civil society, religion, and academia. Applicants should be high calibre graduates with the personal, intellectual and interpersonal qualities necessary for leadership.
Published 5 August 2014