World news story
Chevening Alumni share their experiences
The Chevening Alumni Association of Guatemala met to discuss future plans and to begin a project, which aims to show the impact the scholarship has had on their lives.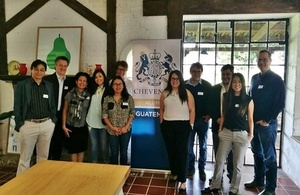 Around 12 former scholarship students came together to start developing a series of videos which will be launched throughout this year. Using a co-operative approach, alumni from different cohorts discussed ideas and topics for the videos.
The Alumni explained how the development opportunities they had experienced through the Chevening programme helped them to reach new levels of growth they did not anticipate. They also discussed how Chevening had developed their skills and allowed them the opportunity to be recognised as leaders.
Using social media channels and other digital platforms, the project will aim to promote Chevening and raise its profile. The messages will also highlight the ambition, leadership potential, and strong academic background a Chevening candidate must have to apply for the programme.
The British Ambassador to Guatemala, Carolyn Davidson, visited the workshop and said:
I'm glad you took full advantage of this once-in-a-lifetime opportunity to bring out the thinker in you and play a part in building the future global leaders here in Guatemala. I'm sure others will see the opportunity Chevening offers to many bright individuals to inspire them further and spur them to work harder.
Chevening is the UK government's global scholarship programme that offers future leaders the unique opportunity to study in the UK. These scholarships are awarded to outstanding professionals to pursue a one-year master's degree in any subject at any UK university. The application period for 2019-2020 scholarship is 6 August - 6 November 2018.
More information about the programme click here.
Published 5 July 2018