News story
Cheque payments to become quicker and easier
Plans unveiled to modernise cheque payments.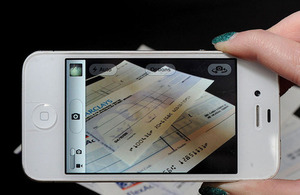 Government change will enable banks to utilise new technology to deliver better services for customers
The government has today unveiled detailed plans to modernise cheque payments.
It is seeking views from consumers, businesses, charities and the banking industry on how best to implement changes that will boost the status of the cheque, reinforcing their relevance in 21st century Britain.
The government is proposing legislating for "cheque imaging" which will speed up cheque clearing times and give customers greater convenience and choice in how they deposit cheques. The reforms will enable banks to clear a certified, digital image of a cheque instead of a traditional paper cheque. This will secure the future of the cheque as a reliable method of payment in the UK, using proven technology which has been in operation in the United States for 10 years.
We are giving you the option to respond to consultation questions via LinkedIn.
The changes will make a real difference to cheque users.
Not only will it reduce the time it takes for a cheque to clear, to as little as two days, it will increase consumer convenience and choice of ways to pay. While customers will continue to be able to deposit cheques at branches, cash machines, Post Offices or by post and still benefit from a faster clearing cycle, banks will also be able to offer the option of paying in cheques via smartphone or tablet. For customers in rural areas or with limited mobility, for example, this extra option could help overcome current barriers to financial inclusion. Additionally, banks may be able to offer later last times of deposit to customers if they no longer require couriers to collect paper cheques daily from branches.
Cheques are a crucial part of the British payments landscape - nearly £840 billion of cheques were processed in 2012 – accounting for 10% of all payments made by individuals. They are especially important to small businesses – sole traders and other micro businesses who continue to make over a fifth of their outgoing payments in cheques. Cheques continue to be a vital channel for charitable donations. Nearly a third of smaller charities receive over 75% of their income by cheque.
And because they are so important the government is taking steps to secure their long term future.
It is seeking views on proposals that will enable banks to process images of cheques rather than paper as they do today. That means that time spent transferring it between different banks and centres for processing, exchange and clearing is saved, as well as reducing the overall costs. In the future it could be quicker to cash a cheque than to complete a Bacs transfer.
Financial Secretary to the Treasury, Sajid Javid, said:
This government is determined to create a banking sector that works for consumers and serves businesses.

New technology has the potential to deliver real benefits for customers. That is why we're creating a new payments regulator and why we are consulting on speeding up the cheque clearing process.

We want to take the very best of the current system and make it better. We want to cheques to have a crucial role in the ongoing success of the UK.
John Allan, National Chairman, Federation of Small Businesses, said:
Many of our members, and their customers, still rely on cheques so will be pleased with the investment and innovation to ensure their continued use. Speeding up cheque payments into business accounts will help boost a firms' cash-flow as many find the current process frustratingly slow. Using smart phones is an interesting idea which should allow firms in areas, particularly where bank branches are closing, to be able to accept cheques as a method of payment.
Daniel Fluskey, Head of Policy Research at the Institute of Fundraising, said:
It's a positive move for government to be looking at how cheque processing can be made easier, quicker, and more convenient. Cheques are still a very popular way for many people to give and the Institute of Fundraising would welcome the introduction of changes which would make it more efficient for charities to process donations. We look forward to looking at the scope and provisions of the consultation in more detail to assess the potential impact.
Allison Wood, Finance Director at Maggie's (cancer support charity) said:
Maggie's supports innovations that allow our supporters to send donations to Maggie's more easily. Maggie's relies entirely on voluntary donations to build and grow our network of cancer centres offering practical, emotional and social support to people with cancer and their family and friends. We therefore welcome innovations that enable us to do this and which offer choices to supporters who have smartphones and value cheques as a method of giving.
Angela Thomas, Managing Director of the Cheque and Credit Clearing Company said:
The Cheque and Credit Clearing Company wants to put cheques firmly in the 21st century whilst making sure that customers still have the option of writing and paying in cheques exactly as they do now. Getting the necessary legislation changed will help us take a big step towards enabling cheque imaging regardless of who you bank with. We will now continue our work with the Treasury and the industry to agree a realistic date to deliver. Our goal will be to ensure that as many customers as possible can benefit as quickly as possible whilst ensuring we maintain the integrity and security of the cheque clearing for everyone.
Published 6 March 2014