World news story
Chef needed at British embassy Santiago
The British embassy in Santiago is recruiting a full time chef for the Ambassador's residence. The closing date is 2 August.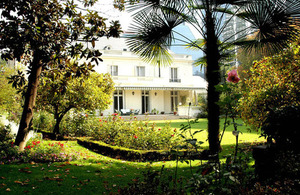 Duties include
Planning and producing menus for events (breakfast, lunch, dinner and receptions)
Planning and producing daily menus for the Ambassador, his/her family and residence staff
Manage the food stock and purchasing
Prepare shopping lists in coordination with the Residence Manager, and assist with the purchasing process
Keep the workplace clean and tidy as well as all kitchen utensils and equipment on a daily basis.
Compliance with UK and Chilean Health & Safety food standards
Collaborate with the Embassy staff to ensure an efficient and effective service at the Residence, including domestic issues as well
Essential Requirements
Relevant academic qualifications
Minimum 3 years work experience in the industry
Experience of International Cuisine
Experience in creating and producing menus as well as catering for large groups
Self-sufficient and ability to work in a team
Desirable Skills
Some command of spoken and written English and Spanish
Certificate on course on Health and Safety practices (HACCP, ISO 9001-2000, SERVSAFE or similar)
Training in First Aid
Specialised training courses on Management, Service and Protocol
Computer skills ( Outlook, Excel, Word)
Core Hours
45 hours per week
Availability Monday to Friday
Available to cover overtime
Holiday Entitlement
Salary
CLP$831,948.- per month gross on a seven month basis contract with the possibility of renewing for a permanent contract.
If interested please send a CV and covering letter to: Deputy Head of Corporate Services, British Embassy, Avenida el Bosque Norte 0125, Las Condes, Santiago.
Closing date: Friday 2nd August 2013 until 12 pm at the British Embassy Reception (Av. El Bosque Norte 0125, 1er Piso).
If you are selected for interview we will call you by 5th August 2013. Interviews will be on 8th August 2013. If you do not receive a call you have not been selected, however, we will keep your CV on file and consider you for any other vacancies that arise.
Any subsequent job offer will be subject to employment and reference checks.

The British Embassy in Santiago is committed to creating and sustaining a culture that values and actively supports and promotes diversity.
For more information about the activities of the British Embassy in Santiago, follow us on:
Published 26 July 2013