'Cheaper, quicker and less daunting' justice
Individuals and businesses will find it cheaper, quicker and less daunting to resolve their disputes in civil courts.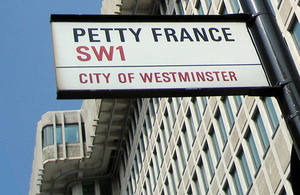 Individuals and businesses will find it cheaper, quicker and less daunting to resolve their disputes in civil courts, through new measures announced today.
The England and Wales civil courts system deals with around 1.5 million disputes per year, ranging from arguments between neighbours and people owing money to international contract disputes and claims for compensation.
Up to 80,000 more cases each year will be diverted to a simple Small Claims mediation process which avoids the stress, expense and legal preparation of a formal court hearing. This offers the option of a quick telephone-based mediation service - a method which has already proved successful with 98 per cent of users saying they were either satisfied or very satisfied with the service.
Justice Secretary Kenneth Clarke said:
'Without effective civil justice, businesses couldn't trade, individuals couldn't enforce their rights, and government couldn't fulfil its duties.'
'But individuals and businesses tell me that the civil justice system at the moment can sometimes be intimidating and that.they don't know if using the system will be worth the time, expense and hassle of going to court.
'I want to make the system as easy and transparent as possible. I want people to be able to resolve their disputes cheaply and simply through the courts' very successful mediation service, and I want judges freed up to make quick and effective judgments based on the facts of a case, without unnecessary legal complication.
'These changes will produce a service that helps people to resolve their disputes effectively and in the simplest and quickest way possible so they can get on with their lives and businesses.'
The proposals are set out in the Government's response to its consultation Solving Disputes in the County Courts. The response includes plans to:
Simplify the majority of cases: Increase the limit of 'small claims' from £5,000 to £10,000 with a view to increasing it again to £15,000 subject to evaluation. All small claims will be automatically referred to the Small Claims Mediation Service, though mediation will not be mandatory. Cases proceeding to court will not need comprehensive legal preparation.
Modernise and streamline the County Court system: A single county court will be introduced This clears the way for all claims to be handled electronically at modern centralised business centres, and to then be allocated across neighbouring courts according to demand. Some administrative form work will move from judges to administrators, leaving judges to concentrate on making good decisions rather than managing cases. Restrictions will be lifted on High Court judges sitting in County Courts while waiting to take cases in the High Court.
Improve the enforcement of court decisions so that more creditors receive what they are owed: For example where a court-ordered payment instalment plan is already in place, creditors will also be able to apply for an order to secure an unsecured debt. This would stop certain instances where a debtor might benefit from the sale of a property without paying off the debt. However for their protection, debtors will no longer be at risk of losing their home over consumer credit debts of less than £1,000.
Free up the High Court to only deal with necessarily complex cases: The level below which non-personal injury claims cannot be heard in the High Court will be raised from £25,000 to £100,000. The outdated value of property above which equity cases need to be referred up to the High Court will be raised from £30,000 to £350,000, reflecting the rise in house prices since the level was last set in 1981.
Extending a web-based scheme which controls legal costs for the majority of personal injury cases: The costs are pre-set in a way which encourages early settlement. Following evaluation of its current use in road accident cases worth compensation of up to £10,000, the scheme will be extended to road accident cases worth up to £25,000 and also to employer and public liability personal injury cases.
Notes to editors
For further information, please contact Ministry of Justice Press Office on 020 3334 3531.
More details to help you explain to your audience how the Small Claims Mediation Service works are as follows:
The service is entirely voluntary. Parties are invited to use the service by ticking a box on the court form and if both parties and/or the court consider it to be appropriate, the parties are invited to contact the mediator to set up a mediation appointment at a convenient time. This can be a face-to-face mediation at the court, but more than 95 per cent of mediations are conducted by telephone - either as a conference call or with the mediator speaking separately to each party in turn. Mediation usually takes 5-6 weeks to arrange, compared to 13-14 weeks for a court hearing. If the case does not settle at mediation, it simply progresses to a hearing before the judge.
In the 12 months to the end of April 2010, the service settled 73 per cent of the 10,000 mediations it conducted. A survey of 7,500 users found 98 per cent were satisfied or very satisfied with the professionalism and helpfulness of the mediators, with 95 per cent saying that they would use the service again. Of the minority of parties who did not settle their cases, 87 per cent also said they would use the service again.
Watch a video showing business owner Tony Pilcher describing his experience of using the Small Claims Mediation Service. He sums up his experience of mediation by saying:
'Even if your court appearance is a morning or afternoon, you have to cut out a day haven't you. So you've lost a day's money and you don't get that back from the courts. This way, I just spent an hour at home with everything around me. I could get on with business. It was just so cost-effective as a way of clearing up this issue.'
Published 9 February 2012