News story
Charles Hendry's Clean Energy visit to Belfast
Minister of State Charles Hendry was in Belfast on Monday to mark the beginning of Clean Energy Week. The Minister began his visit at the Harland…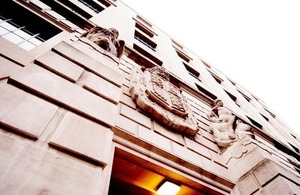 Minister of State Charles Hendry was in Belfast on Monday to mark the beginning of Clean Energy Week.
The Minister began his visit at the Harland and Wolff facility - famous as the birthplace of the Titanic. While Harland and Wolff is best known for shipbuilding, the company has in recent years diversified to use its ship-building skills and resources in other sectors such as the manufacture of renewable energy and offshore facilities.
Mr Hendry noted that 100 years after the launch of the Titanic Harland and Wolff is still going strong. He praised the company for seizing the opportunities in offshore renewables sector, predicting that with its extensive facilities and skilled workforce Harland and Wolff is well placed to make the most of it.
The Minister next visited Belfast Harbour, where a major redevelopment programme is currently underway.
The visit began with a roundtable discussion involving leading figures from Northern Ireland's renewable energy sector. Issues discussed included barriers to investment, green skills, and the future of the Harbour.
After lunch the Minister was given a tour of the harbour to see DONG & Scottish Renewables' £50 million redevelopment in progress. The site will initially be used for the construction of the West of Duddon Sands wind farm and is scheduled for completion in October 2012.
Mr Hendry called the site a significant development which reinforces the confidence in the UK offshore wind sector and recognises Belfast's strategic importance for those wind farms to the west of Britain.
The Minister then had a meeting with Arlene Forster, Minister of the Environment in the Northern Ireland Assembly.
The meeting focused primarily on the Electricity Market Reform (EMR) programme, with Ms Forster stressing the commitment of the Northern Ireland government to collaborating with DECC to make EMR work.
Published 24 April 2012