World news story
Chargé d'Affaires to Hungary appointed
Ms Theresa Bubbear has been appointed Chargé d'Affaires Ad Interim to Hungary. She took up her appointment on 27 April 2015.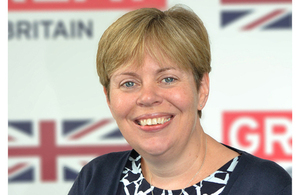 She will succeed former British Ambassador to Hungary, Mr Jonathan Knott, who finished his posting on 26 April 2015. Theresa will lead the Embassy until the arrival of the new Ambassador to Hungary in early 2016.
Previously, Theresa was serving as Deputy Head of Mission at the British Embassy in Budapest. She joined the Foreign and Commonwealth Office in 1985 and has worked in Moscow, Helsinki and South Africa. Theresa has carried out political, press, consular, commercial and human resources work in London and overseas. She was Head of the HR Operations Team in the Foreign Office in London. Theresa is married and has three daughters.
On her appointment Ms Bubbear said:
I am delighted to be taking up my new role in Hungary and very much look forward to further develop our relationship with the Hungarian government on a number of very important issues both bilaterally, as well as multilaterally within the EU, UN and NATO.
Published 29 April 2015