Press release
Chapman's pond in York remains closed to anglers
Investigations continue into fish deaths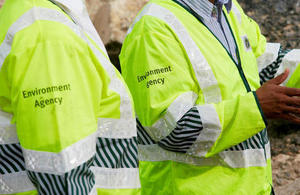 Chapman's Pond in York remains closed this week while the Environment Agency investigates several fish deaths.
Fisheries officers have taken water quality samples and live fish specimens from the pond, which have been sent the fish health team at Brampton for testing.
These tests will aim to establish whether there are water quality issues affecting the fish, or the likelihood of disease or parasites being the cause of mortalities.
Pending the results of these tests, the pond will remain closed to anglers for the next two to three weeks.
The surrounding nature reserve is not affected by the pond closure, and remains open. There is no threat posed to dogs, or anyone wishing to use this area. Anglers are being asked to refrain from attempting to fish or use any angling equipment in the water at this time.
Laura Hogg, fisheries and biodiversity officer at the Environment Agency said:
We've recommended that the pond continues to remain closed to anglers while we carry out our investigations.

Until the cause of the deaths is known, we are advising anglers to remain vigilant, honour the closure notice and follow the three simple biosecurity steps – check, clean and dry, to reduce the risk of spreading any potential diseases.
Anglers are urged to:
Check equipment and clothing including soles of footwear
Clean mud and other debris from boots and equipment on leaving the watercourse. If possible, wash with clean hot water and sterilise with disinfectant
Dry all kit for 48 hours prior to reuse, preferably in sunlight
The mortalities, which have occurred over the last month, are thought to be predominantly carp.
The fish deaths were first reported by The Friends of Chapmans Pond, who were concerned that the number of deaths had exceeded what might be normally expected for natural causes.
If you see fish in distress, please call the Environment Agency's incident hotline on 0800 807060.
Published 17 June 2015