Changes to UK visa requirements for Venezuelan nationals
Currently, all Venezuelans travelling to the UK need to apply for a visa.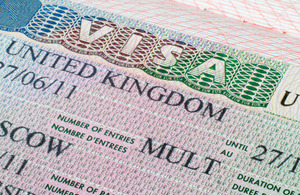 On 5 May 2014, the UK introduced a visit visa requirement for Venezuelan nationals. This means that now ALL Venezuelan nationals need to obtain a visa before travelling to the UK.
Please be aware that visa applications are not handled at the Embassy any longer. Applicants should apply for their visa online at: www.visa4uk.fco.gov.uk. Applicants will then be able to book an appointment online in order to submit supporting documents and biometric data in person at the Visa Application Centre, located at the following address:
Avenida Francisco de Miranda
Edificio Mene Grande
Piso 6, Oficina 6-1
Los Palos Grandes, Caracas

The cost of a six-month multiple entry visit visa is VEF 863, payable in Venezuelan currency (bolivars).
Those who travel frequently and who qualify may apply for a multiple-entry visa of 2, 5 or 10-year validity for a higher fee.
Our global service standard for visit visas is to process applications within 15 working days.
For more information please write: caracvisainfo@fco.gov.uk
Frequently asked questions:
1. What does the new visa requirement mean, in practical terms?
It means that all Venezuelan nationals travelling to the UK will require a visa to enter the country, regardless of the length of their visit.
2. How can I apply for a visa? Where can I get the information I need?
Kindly send a blank email to the address: caracvisainfo@fco.gov.uk, and you will receive an automatic reply with the necessary information.
3. I have a specific enquiry, how can I obtain personalised advice?
HGS (Hinduja Global Solutions) is a commercial company, working in partnership with UK Visas and Immigration. HGS provides information services (a website, call centre, webchat and an email enquiry service) to help people apply for a visa to enter the United Kingdom. You may contact the HGS call centre by calling 0800 136 2086. The use of the call centre and webchat information services require payment of a fee, email enquiries are free. For more details please refer to the HGS website: http://ukvi-international.faq-help.com/. Trained staff will give you the information you require. All the information provided is approved by UK Visas & Immigration.
4. I'm having technical issues with the online visa application website: www.visa4uk.fco.gov.uk, where can I get advice?
If you are experiencing technical issues with www.visa4uk.fco.gov.uk, please send an email to: UKBAIG.ServiceIntegration@fco.gsi.gov.uk with details of your technical issue for advice.
5. How long does the visa process take?
The UKVI global standard for processing visitor visas is approximately 15 working days from the time of your appointment.
6. How much does a visa cost?
Currently a 6-month visitor visa is VEF 863. Longer term visitor visas have a higher price. Please refer to the website: www.gov.uk/visas-immigration.
7. I am a European citizen/I have an EU passport. Do I need a visa to visit, study and/or work in the UK?
European nationals do not need a visa to visit, study or work in the UK. Further information can be found here: https://www.gov.uk/browse/visas-immigration/eu-eea-commonwealth
Published 13 March 2014
Last updated 10 April 2014
+ show all updates
updated prices, FAQ section

Added translation