World news story
Changes to the UK's visa service in Kuwait
The summer is the peak time for visa applications in Kuwait – This article gives a few hints and tips make sure your application process is as smooth as possible.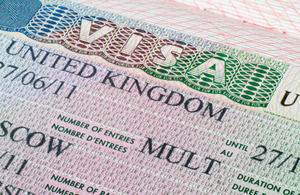 The UK has made a number of changes to the visa process in Kuwait, ahead of the busy summer period. If you are applying for a visa, or planning to travel to the UK this summer then please take note of the following information. Levels of demand are higher during the summer months, so make sure you apply for your visa as soon as you know your travel plans. You can make your application up to three months before travelling to the UK.
Passport collection
From 18 May passport collection times will run from 5pm-8pm Sunday to Thursday. This means that you will need to collect your passport during these times, unless you have an emergency need for collection outside of these hours. During the specified hours, staff at the VAC will run a dedicated collection service, which means that you can avoid the daytime queues and collect your passport with minimal waiting times. If you do have an urgent travel requirement, or are unable to attend during these hours, then please speak to a member of staff at the VAC. Please note that you may have to wait for up to an hour for collection during the daytime during the busy summer months (May to September). We have introduced this service in response to feedback from customers.
Changes to contracts for Domestic Workers
You may have noticed a change to the contract template that you must provide in support of an application from an overseas domestic worker. The change was introduced on April 6 as part of a set of changes to the UK's immigration rules. Please ensure that you use the new contract template to prevent your application being delayed. You can pick up a hard copy of the contract template at the VAC.
Apply early
If you're planning to travel to the UK this summer, please apply for your visa as soon as you know your plans. You can apply up to three months before you intend to travel. Last year we processed visas from Kuwaiti nationals in just under 6 working days on average, but during summer months it can take slightly longer. If you need to travel sooner then you may want to consider using the priority visa service, for front of queue processing, typically within 3-5 working days.
Published 20 May 2015