World news story
Important changes to the UK visa application process in Moldova
The British Embassy no longer accepts applications for visas for travel to the UK.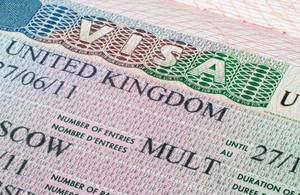 The British Embassy no longer accepts applications for visas for travel to the UK and can no longer answer enquiries on entry clearance or visa application related questions.
UK Visas and Immigration's new commercial partner Teleperformance Ltd have now taken over the running of our Visa Application Centre in Chisinau. The Visa Application Centre has moved to:
Teleperformance Ltd, Office 54, 49/3 Tighina Street, Chisinau
However, in addition to the location of the Visa Application Centre, please note other important changes to UK Visas and Immigration's visa service:
Opening hours: the Visa Application Centre is open every Thursday only from 24 April 2014 between 09.00 – 13.00.

Charges/fees: there is a charge of £59 to use the Visa Application Centre in Chisinau. This is in addition to the visa fee and is charged in Euros. This charge covers the cost of providing the application submission facilities and the return of your travel documents to your chosen address rather than returning to the Visa Application Centre for collection.

Registration: visa applicants must register on the Teleperformance Website, after they have booked their appointment, to pay for their appointment slot and any further additional services required. Prior registration with Teleperformance will also ensure your application is processed quickly.
The new Visa Application Centre does offer visa applicants some additional service options:
There are a limited number of Priority Visa Service (PVS) appointments available. A PVS appointment attracts a fee of £100 and ensures your visa application is placed at the front of the queue (normally enabling a decision within 3-5 working days).

An international enquiry service (operating in 20 languages, including English and Russian (but not Romanian)), is now up and running if you want to find more information about the visa application process. The following services are available:
Email contact service: a web form enables customers to make email enquiries.
Webchat: customers can access a real time webchat with an agent for a charge of £4 a session.
Telephone contact service: speaking to an adviser will cost £1.37 plus the cost of the call. Call costs will vary depending on the call type, the customer's tariff and local charges. Telephone enquiries from Moldova should be made to 00 44 1243 217 936 (0800 to 1600 Monday to Friday, UK time).
Further details on all of the services, including eligibility criteria, will be available on the Teleperformance Website once you have registered. If you require further information regarding UK Visa Services, please visit www.gov.uk/visas-immigration.
Complaints procedure
If visa customers would like to make a complaint about the visa decision they received or are dissatisfied with the service provided by UK Visas and Immigration or Teleperformance, then please submit complaints by email to the Entry Clearance Manager at the British Embassy in Warsaw. Visa Application Centres and Teleperformance also have the provision to accept comments and complaints, which they will forward to the British Embassy in Warsaw.
Published 12 March 2014
Last updated 13 March 2014
+ show all updates
Added translation
Added translation
First published.