Changes to the rules for company and business names
Outcome of the Red Tape Challenge consultation on company and business names.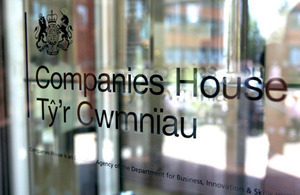 The UK government response to the Company and Business Names: Red Tape Challenge consultation was published on 4 October 2013.
The consultation sought views on the future of names regulations in general and invited comments on the options for improving and simplifying them. It considered the need to maintain the current regulations which, primarily, set out rules regarding 'same as' names and 'sensitive' words and expressions.
When the changes apply
The regulations came into force on 31 January 2015.
The regulations concerned are:
The Company, Limited Liability Partnership and Business (Sensitive Words and Expressions) Regulations 2014
The Company, Limited Liability Partnership and Business (Names and Trading Disclosures) Regulations 2014
Main changes
Fewer words are now disregarded for the purposes of deciding whether one name is the 'same as' another on the register to allow more choice and make name swaps within groups of companies easier - the words (and their Welsh equivalents) to be removed include:
exports
group
holdings
imports
international
services
Updates to the list of permitted characters, signs, symbols and punctuation to include accents and other diacritical marks.
Amendments to the list of expressions to be disregarded for the purposes of 'same as' (including their Welsh equivalents) are:
'& Co'
'& Company'
'and Co'
'and Company'
The list of words and expressions now disregarded includes where they are used with brackets, meaning a name which was previously not the 'same as' because of the inclusion of brackets is now treated as 'same as'.
Widening of the 'same as' consent provision now makes it easier for companies in the same group to grant permission to register a proposed name.
Amendments to trading disclosure requirements now means that any company located in an office or other location occupied by 6 or more companies may make its registered name available for inspection on a register.
There are fewer 'sensitive' words and expressions. The list (and where applicable Welsh and Gaelic equivalents) no longer includes:
abortion
authority
banknote
board
data protection
disciplinary
discipline
European
giro
group
holding
human rights
international
national
oversight
pregnancy termination
register
registered
registration
registry
regulation
rule committee
United Kingdom
watchdog
Further information
Where to find the consultation and legislation
You can read the consultation response and the statutory instruments for the regulations at:
Technical changes to incorporation software
The changes to the rules for company names will affect the schemas used in company incorporation software.
You can find the new schemas on our schema page and request an updated version of our Technical Interface Specification (TIS) vs 4.16.
Published 4 December 2014
Last updated 3 February 2015
+ show all updates
Article adjusted to reflect that the legislation is now in force.

Link added to new schema page

Updated with the latest links to legislation and technical information.

First published.