Changes to the prison estate
Plans to close Lancaster Castle and Ashwell prisons and re-role Morton Hall prison to an Immigration Removal Centre, have been announced.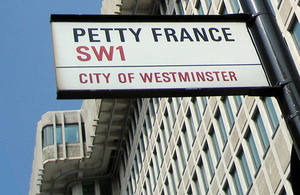 Work to implement these changes will start immediately.
We are continuing to expand the prison estate and new prison places are coming on stream. However, the population has not grown as fast as previously projected. On Friday 7 January the prison population stood at 82,991 with useable operational capacity at 87,936. As a result there is scope to reduce overall capacity whilst maintaining sufficient places to accommodate all those committed to custody by the courts.
Kenneth Clarke, Lord Chancellor and Secretary of State for Justice said:
'The decision to close any prison is a difficult one but one that we have had to make. Closing outdated and expensive prisons is an important step in our strategy to provide a secure and modern, fit for purpose prison estate, while improving efficiency and value for the taxpayer.
'The changes will reduce our current capacity by 849 places and I am confident that they can be safely managed within existing headroom, whilst maintaining our ability to cope with any increase in population. Security remains our highest priority and we will ensure that this, along with efficiency and current performance levels, is maintained across the estate.
'Decisions on the future size of the prison estate will be driven by population demand and prisons will only close when capacity allows. We will always ensure that there are sufficient places for those offenders sentenced to custody by the courts, including a margin to manage fluctuations in the prison population. Decisions to close future capacity will only be taken if they do not put this ability at risk.'
Notes to Editors
HMP Lancaster Castle is housed in a medieval castle and while staff at the establishment have done an admirable job and must be commended, the building places severe limitations and restrictions on their ability to deliver the requirements of a modern prison service.
Two thirds of the accommodation at HMP Ashwell is out of use, and the estimated refurbishment costs mean that it would not be financially viable to rebuild the site to the standards required.
HMP Lancaster Castle and HMP Ashwell will therefore close. A range of options for staff at these sites are being developed, including redeployment to neighbouring establishments and voluntary exits.
A third prison, HMP Morton Hall will change its role to become and Immigration Removal Centre, holding detainees on behalf of the UK Border Agency (UKBA). The prison will continue to be managed by the National Offender Management Service but under the terms of a service level agreement with the UKBA. As this becomes a service paid for by UKBA but operated by NOMS, it will enable NOMS to make savings without impacting on staff.
For further information please contact the Ministry of Justice press office on 020 3334 3536.
Published 13 January 2011