Changes to the prison estate
The Government is to start feasibility work on what would be Britain's biggest prison.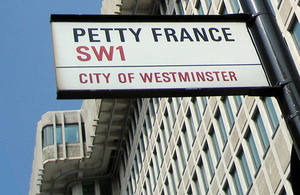 The Government is to start feasibility work on what would be Britain's biggest prison as part of a major programme of updating Britain's prison estate. The new prison could hold more than 2,000 prisoners - around a quarter more than the largest current facility. The new facility is likely to be in London, the North West or North Wales.
It follows the opening of the new HMP Oakwood near Wolverhampton last year which has a normal capacity of 1,600 prisoners, and is now approaching full operation. The prison has the most modern training and rehabilitation facilities in the country.
Four new mini-prisons - known as houseblocks - will also be built. The current intention is that these new places will be built at HMPs Parc in South Wales, Peterborough in Cambridgeshire, The Mount in Hertfordshire and Thameside in London. In total they will be able to hold up to 1,260 prisoners and they will replace older, more expensive prison capacity. The cost of holding a prisoner in an older prison is often more than twice as expensive as keeping them in a new one. Their modern design allows new prisons to operate in a significantly more efficient way, requiring less maintenance and general upkeep compared to older ones.
The new developments will allow the Ministry of Justice to close six smaller, older and more expensive prisons, and to close parts of three others. The prisons affected are HMPs Bullwood Hall, Canterbury, Gloucester, Kingston, Shepton Mallet and Shrewsbury, with some accommodation at HMPs Chelmsford, Hull and Isle of Wight also closing. This amounts to around 2,600 places. We will also decommission 200 contractually crowded places at private prisons.
The Government will also convert a surplus young offenders institution at HMP Ashfield into a full adult prison.
The programme is part of the Government's drive to build new capacity to replace older prisons and so bring down the cost of operating the prison system. It is expected to save £63 million a year.  
Justice Secretary Chris Grayling said:
'We have to bring down the cost of our prison system, much of which is old and expensive. But I never want the Courts to be in a position where they cannot send a criminal to prison because there is no place available. So we have to move as fast as we can to replace the older parts of our prison system.
'That's why we are moving ahead with immediate plans for new prison capacity, as well as closing older and more expensive facilities.
'It's also why I am now moving ahead with planning for the next generation of new prisons.'
Notes to editors
For more details, contact the Ministry of Justice press office on 020 3334 3518.
Published 10 January 2013