Withdrawal of provisional allocation of PFI credits from projects that will now not be needed to meet the 2020 landfill diversion targets.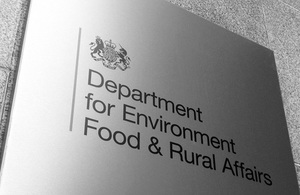 As part of the Spending Review process Defra has reviewed the amount of PFI grant that central government needs to put into local government funded waste treatment infrastructure.  We have concluded that we must withdraw the provisional allocation of PFI credits from seven projects, on the basis that, on reasonable assumptions, these projects will no longer be needed in order to meet the 2020 landfill diversion targets set by the European Union. This will reduce estimated central government PFI expenditure by £3 million per annum in 2014-15 rising to £26 million per annum from 2017/18 onwards.
The EU Landfill Directive set targets for each Member State to reduce the amount of Biodegradable Municipal Waste sent to landfill.  Defra has used economic and risk forecasts to carry out a detailed analysis of future waste growth and the future treatment capacity required to meet the diversion target in 2020.  Based on this analysis the 18 projects to which funding had provisionally been allocated were prioritised on the basis of i) the value for money that would be obtained from the PFI grant investment, ii) the likelihood of delivery of the facility, and, iii) how soon the facility was planned to be operational.
The provisional offer of central government support in the form of PFI Grant funding to projects sponsored by the following authorities will be withdrawn.
Local Authorities:
Cheshire West and Chester, and Cheshire East;
Coventry, Solihull and Warwickshire ("Project Transform");
Gloucestershire;
Leicestershire;
Milton Keynes and Northamptonshire;
North London Waste Authority; and
South London Waste Partnership (consisting of the London Boroughs of Croydon, Kingston, Merton and Sutton).
Projects sponsored by the following authorities will retain their provisional allocation of PFI Credits.
Local Authorities:
Barnsley, Doncaster and Rotherham;
Bradford and Calderdale;
Essex and Southend-on-Sea;
Hertfordshire;
Leeds;
Merseyside Waste Disposal Authority and Halton;
Norfolk;
North Yorkshire and City of York;
South Tyne and Wear Partnership (consisting of Gateshead, South Tyneside and Sunderland);
South West Devon Waste Partnership (consisting of Devon, Plymouth and Torbay); and
Wakefield City Council.
Defra remains committed to supporting 21 waste PFI projects already signed.
Local authorities are being advised individually of these decisions and we will shortly be publishing further details of the criteria that we have used to evaluate which projects will have their provisional allocation of PFI credits withdrawn.
The estimated annual savings from these changes are lower than the PFI credits provisionally allocated to the projects, as grant would have been paid typically over 25 years, and it should not be expected that all projects would have successfully reached completion and payment.
Defra's Waste Infrastructure Delivery Programme will continue to provide assistance to any projects which continue with their procurement of waste infrastructure in the absence of central government financial support.
Published 20 October 2010