Press release
Changes to pension regulations will save firms millions of pounds
The Pensions Minister today unveiled a set of measures to ease the administrative and regulatory burden on employers.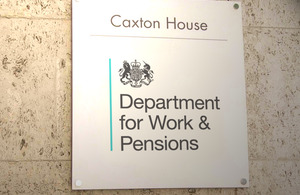 The Pensions Minister today unveiled a set of measures to ease the administrative and regulatory burden on employers.
The Department for Work and Pensions (DWP) examined the regulations covering private pensions, following input from pension providers, businesses and consumers, as part of the Government's Red Tape Challenge.
Although it found the legislation to be largely fit for purpose, a number of stakeholders highlighted key areas in need of improvement. These included disclosure of information rules which have built up over the past 25 years governing what, when and how pension schemes communicate with their members.
The DWP estimates businesses will save £10 million a year as a result of changes it is making to these regulations.
Pensions Minister Steve Webb said:
We took a forensic look at regulations covering private pensions as part of our work on the Red Tape Challenge, and the good news is we found they are mostly working well. But far from resting on our laurels, we are finding new ways to cut red tape and ease the burden of regulations on employers.
Our changes will save businesses millions of pounds, by streamlining and improving rules governing what, when and how pension schemes must communicate with their members.
We are also giving the Pensions Regulator a new objective to ensure a company's need for sustainable growth is part of its pension scheme funding negotiations.
Key outcomes of the DWP's Red Tape Challenge work include:
Simplifying disclosure of information rules, to harmonise requirements across different schemes and extending the use of electronic communication, such as email or websites

A new statutory objective for the Pensions Regulator better balancing the need to protect members' benefits with the need for sponsoring employers to be able to grow in a sustainable way.

More work to see how the current processes relating to employer debt that cause difficulties for charities and others participating in multi-employer schemes could be improved.

Considering whether to make indexation for future accruals discretionary as part of on-going work to encourage risk sharing through new 'Defined Ambition' pensions.
More information
A full Written Ministerial Statement can be found at: www.parliament.uk/business/publications/hansard/commons/todays-written-statements/
The findings from the Private Pensions Red Tape Challenge can be found at www.redtapechallenge.cabinetoffice.gov.uk/home/index/. Of the 92 regulations being dealt with as part of this announcement, six are to be scrapped and five are to be improved.
The DWP's consultation on the pension schemes disclosure of information regulations was open for eight weeks and closed on 14th April.
The Government's early proposals on Defined Ambition were published in its recent reinvigoration strategy www.dwp.gov.uk/docs/reinvigorating-workplace-pensions.pdf
Red Tape Challenge reforms across Government are already saving business over £155 million per year - with many further savings not yet quantified. The latest data shows that around 3,733 regulations have already been identified to be scrapped or substantially reduced.
This year the Government replaced the One-in, One-out rule with the more challenging One-In, Two-Out rule - under which departments must find savings worth double the cost of any new regulations on business. Taken together, these initiatives will save business around £1bn by this June.

The Government's economic policy objective is to achieve 'strong, sustainable and balanced growth that is more evenly shared across the country and between industries'. It set four ambitions in its 'Plan for Growth', published at Budget 2011: cdn.hm-treasury.gov.uk/2011budget_growth.pdf

to create the most competitive tax system in the G20;
to make the UK the best place in Europe to start, finance and grow a business;
to encourage investment and exports as a route to a more balanced economy; and
to create a more educated workforce that is the most flexible in Europe.

Work is underway across government to achieve these ambitions, including progress on more than 250 measures as part of the Growth Review. Developing an Industrial Strategy gives new impetus to this work by providing businesses, investors and the public with more clarity about the long-term direction in which the Government wants the economy to travel.
Press Office
Caxton House
Tothill Street
London
SW1H 9NA
London Press Office (national media and London area enquiries only – not questions about personal claims) 020 3267 5144
Out-of-hours (journalists only) 076 59 108 883
England and Wales (local media enquiries) 029 20 586 then 097 or 098 or 099
Scotland (local media enquiries) 0131 310 1122
Media enquiries for this press release 0203 267 5116
Follow us on Twitter www.twitter.com/dwppressoffice
Published 25 April 2013