World news story
Changes to payment procedures for visas
All applicants have the option of paying for their entry clearance online by credit card or at Standard Chartered Bank in Freetown.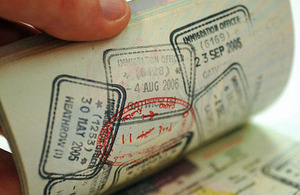 All applicants must have paid the relevant application fee online or to the British High Commission's account with Standard Chartered Bank before they attend the British High Commission and submit their biometrics, application form and supporting documents.
For applicants who choose to pay at the bank, the appropriate fee must be paid in person Mondays – Friday between 9 am - 3 pm at the following branch in Freetown:
Standard Chartered Bank Sierra Leone Limited
9 & 11 Lightfoot Boston Street
Freetown
Sierra Leone

No other Standard Chartered Bank branch will be able to accept payment for UK Entry Clearance fees.
Procedure
The person paying in the fee must show Standard Chartered Bank:
the confirmation of appointment email for each UK entry clearance applicant, containing a unique Appointment Reference Number (always begins with "VAR"); and GWF number (always begins with "GWF")

the applicant's visa application form
One appointment confirmation and one application form must be submitted for each applicant (this includes children travelling with family).
The fee stipulated on the front of the UK entry clearance application form must be taken unless otherwise advised in notices displayed at Standard Chartered Bank by the British High Commission.
Once the correct fee has been deposited, Standard Chartered Bank will issue the customer with a deposit confirmation slip. This must be brought to the British High Commission at the time of application.
Fees may be paid up to 28 days before the customer's application appointment date at the British High Commission.
Published 6 December 2013