Changes to passport applications for British nationals living abroad
If you live abroad the way you obtain a passport, and where you need to apply, is changing.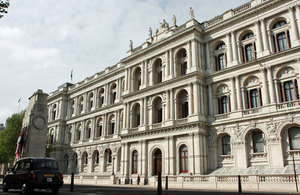 The majority of overseas applications for standard British passports will now be processed by seven Regional Passport Processing Centres (RPPCs), based in Dusseldorf, Hong Kong, Madrid, Paris, Pretoria, Washington, and Wellington.
Rather than sending your application to your nearest British Embassy, High Commission or Consulate, you now need to apply for your passport in a different way. You can find everything you need to know about applying for your new or replacement British passport by going to the How to apply page on the FCO website and clicking on the country you are applying from. This will give you all the details of where and how to apply.
These changes will allow us to continue to meet international quality and security standards for travel documents and reduce the cost of maintaining a passport operation overseas. New passport designs and new processes are being introduced to reduce the likelihood of identity theft and passport fraud; protecting you and international borders.
You can find more information here on changes to the overseas passport service. [PDF, 75 KB]
If you need to travel urgently and you do not have a full validity passport (including if you have applied for a new one and have not yet received it) you should contact your local British Embassy, High Commission or Consulate who may be able to provide you with an emergency travel document.
If you are in the UK and need to apply for a passport, please go to the Directgov website.
Published 8 November 2010