News story
Changes to NCTL's school business management programmes
An update on how school business management programmes will run in the future.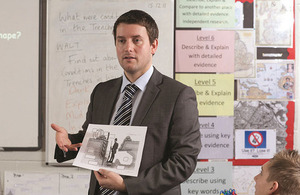 In line with our purpose to create a self-improving, school-led system, the National College for Teaching and Leadership (NCTL) has stepped away from the design and provision of school business management (SBM) programmes.
Content from our former SBM programmes is now freely available under the Open Government Licence.
This is an opportunity for schools and organisations to take ownership of their leadership development and to ensure that the role of SBM remains an important part of effective school leadership and school improvement.
Accreditation of programmes delivered at Qualifications and Credit Framework (QCF) Diploma levels 4, 5 and 6 will be overseen by the Institute of Leadership and Management (ILM), who'll also monitor and quality-assure the training providers.
If you're interested in becoming a provider for SBM programmes, please email ILM.
We've launched a SBM national scholarship scheme until 2016 to help school business managers get funding towards the new accredited provision.
If you're seeking support and advice, the National Association of School Business Management has a range of materials to offer members.
Our original content is available on the National Archives website.
The school business management competency framework is available on GOV.UK.
Contact us
School business management team
Published 30 April 2014