Press release
Changes to import controls for fresh fruit and vegetables
Importers of fresh fruit and vegetables from countries outside the EU will benefit from deregulation coming in to force from 20 July 2010.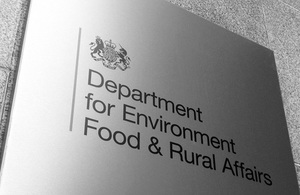 New procedures mean that importers and enforcement services in England and Wales will be able to meet regulatory obligations with minimal impact to the industry. The changes introduced by Defra, via the Horticultural Marketing Inspectorate (HMI), are the final phase of EC reforms that began to come into effect in July 2009.
The latest improvements will:
enable the HMI to make random inspections of just one per cent of goods subject to the General Marketing Standard (GMS) passing through the HMI PEACH system;
allow eligible firms to self certify their imports for Customs clearance of Specific Marketing Standards (SMS) goods through the Approved Trader Status scheme (ATS);
improve risk selection of produce for inspection control; and
use clearer and more informative forms.
Under EU rules, products covered by the General Marketing Standard (GMS) must be subject to a risk-assessed inspection. To minimise the impact on industry, the HMI will check one per cent of all GMS imports, using a system that targets companies with poorer compliance records. Importers will be informed if their goods are selected for random inspection when they apply for each consignment.
These initiatives follow consultation and collaboration with fruit and vegetable importers who will benefit from a simplified and more rational system.
Notes
Further information, including the criteria and application process for the Approved Trader Status scheme is available on the HMI pages of the RPA Website at www.rpa.gov.uk
References to EC marketing regulations relate to Commission Regulation (EC) No. 1580/2007 as amended.
The new system will allow for a one per cent selection of produce by the HMRC CHIEF system, this will be reviewed periodically and the use of other rates considered. If necessary some goods from particular countries or from particular importers or particular products may be subject to a higher rate of check. However, every effort will be made to work with industry to rectify any problems before considering other rates.
Clear guidance for importers whose goods are selected for random inspection will be provided by the HMRC CHIEF system and more information will be available through the HMI Helpdesk on 0845 607 3224.
Criteria for the Approved Trader Status (ATS) scheme include: a record of good compliance with the regulations; training in place for their staff; records of inspections having been carried out on their goods showing appropriate corrective action; and suitable facilities. Status will be granted for three years only, ATS companies will be subject to regular checks and audits and status can be withdrawn should they subsequently fail to meet all criteria.
Enforcement of these regulations is delivered in England and Wales by the Horticultural Marketing Inspectorate (HMI), a branch of the Rural Payments Agency Inspectorate (RPAi).
Published 13 July 2010