Press release
Changes to annual vehicle testing
Changes to the MOT for cars and other large vehicle tests come into effect from 20 March 2013.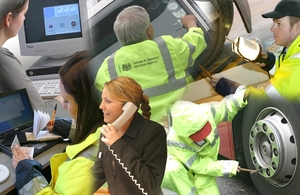 Changes to the MOT for cars and large vehicle tests come into force later this month as new European requirements on roadworthiness take effect.
From 20 March 2013, revised European legislation will introduce new requirements to annual vehicle tests to reflect advances in technology.
The changes include additional checks for some of the vehicle systems already examined such as brakes, steering, suspension and lighting. These changes will not affect the basic cost of a test.
Tests carried out on cars, vans, heavy goods vehicles (HGVs), buses and coaches will be affected.
VOSA Chief Executive Alastair Peoples said:
The MOT test is designed to make sure that a vehicle is fit to be on the road and so it needs to be updated to reflect new vehicle technology. We at VOSA have worked closely with the industry to make sure they are prepared for the changes; and testers have been letting customers know about the new items at the MOT test for more than a year to make sure they are ready for the changes.
There will be new checks on a number of items including:
electronic power steering malfunction indicator lamp
brake fluid warning lamp illuminated or inoperative
engine mountings
speedometer
These changes that are being introduced from 20 March 2013 are as a result of the European legislation but will not affect the basic cost of a test.
For further information see Changes to the MOT test effective from 20 March 2013
Notes to editors
These MOT test changes are already in place in Northern Ireland. The legislation to enable the MOT test changes required under Directive 2010/48/EU.
VOSA is responsible for:
processing applications for licences to operate lorries and buses and registering bus services
operating and administering testing schemes for all vehicles, including the supervision of the MOT testing scheme
enforcing the law on vehicles to ensure that they comply with legal standards and regulations
enforcing drivers' hours and licensing requirements
supporting Traffic Commissioners to help them make informed decisions on operator licensing, vocational drivers and bus registration requirements
providing training and advice for commercial operators
investigating vehicle accidents, defects and recalls
VOSA media enquiries
You should contact our press office if you have a media query or you're a journalist.
Published 4 March 2013