News story
Change of UK Permanent Representative to the Organisation for Economic Co-operation and Development
Mr Nick Bridge has been appointed UK Permanent Representative to the Organisation for Economic Co-operation and Development (OECD) in Paris.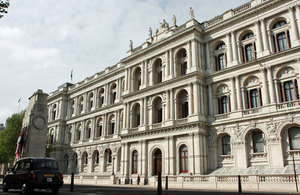 He succeeds Mr Dominic Martin CVO who will be transferring to another Diplomatic Service appointment.
Mr Bridge will take up his appointment in late 2011 and hold the personal rank of Ambassador.
Mr Bridge has served in China, Japan and the United States. His London positions have included Chief Economist at the FCO, and posts in HM Treasury and Ministry of Agriculture, Fisheries and Food.
On his appointment as UK Permanent Representative to the OECD Mr Bridge said:
"I am delighted and honoured to represent the UK at the OECD, an organisation that is doing great work on many of the world's pressing challenges."
Curriculum vitae
Full name:
Nicholas Mark Bridge
Married to:
Polly Victoria Townsend
Children:
None
2008-2011
Washington, Counsellor for Global Issues
2007-2008
FCO, Chief Economist
2005-2006
FCO, Head of Global Economy Group & Deputy Chief Economist
2004-2005
HM Treasury, International Finance Facility
2001-2004
Beijing, First Secretary
1997-2001
Tokyo, Second Secretary
1994-1997
Ministry of Agriculture, Fisheries and Food, Economist
Search the news archive
Published 1 August 2011