News story
Change of UK Permanent Representative to the Council of Europe
Mr Matthew Johnson has been appointed the UK's Permanent Representative to the Council of Europe in Strasbourg.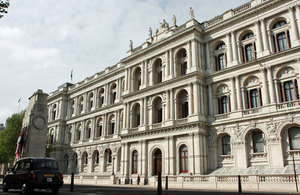 He will succeed Mrs Eleanor Fuller who will be transferring to another Diplomatic Service appointment. Mr Johnson will take up his appointment during August 2012.
Mr Johnson is a career diplomat who joined the FCO in 1988. He has served in Pretoria and Cape Town, Osaka, the UK mission to the UN in New York, and most recently as Deputy High Commissioner in Accra. While in the UK he has worked in a variety of jobs in the FCO in London and on secondment to No 10 as Private Secretary to the Head of the Policy Unit. He is married with two children.
On his appointment as the United Kingdom's Permanent Representative to the Council of Europe, Mr Johnson said:
"I am delighted and honoured to represent the UK in the Council of Europe. The next phase in the Council's work will present important opportunities to harness the momentum generated by the UK's period in the chair during 2011, and deliver the reforms required to make the Council, the European Court of Human Rights and other bodies as effective as possible. I am looking forward to being closely involved in this work over the next few years."
Curriculum vitae
Full name:
Matthew Alfred Johnson
Heidi Suzanne Johnson
1 son, 1 daughter
May 2011-Present
Accra, Deputy High Commissioner
Jan 2011-May 2011
Accra, Acting High Commissioner (during interregnum)
Jul 2008-Jan 2011
Accra, Deputy High Commissioner
Oct 2006-Feb 2008
FCO, Deputy Head, Conflict Group
Sep 2003-Sep 2006
FCO, Head of Political/Military Affairs, Afghanistan Group
May 2000-Jun 2003
UK Mission to the UN, New York, Second Secretary, Human Rights and Social Policy
Jun 1999-May 2000
No 10, Private Secretary to Head of No 10 Policy Unit
Sep 1998-May 1999
FCO, Desk Officer, Cultural Relations Department
Sep 1996-Aug 1998
FCO, Desk Officer, Russia Section, Eastern Department
Jan 1994-Jun 1996
Osaka, Vice-Consul and Management Officer
Apr 1993-Sep 1993
FCO, Desk Officer, Scott Inquiry into Illegal Arms Sales to Iraq, Middle East Department
Dec 1990-Jan 1993
Pretoria and Cape Town, Head of Registry and Political Assistant
Oct 1988-Sep 1990
FCO, Assistant Desk Officer, Personnel Services Department
Oct 1988
Joined FCO
Published 24 February 2012