News story
Change of Permanent Representative to the UN Conference on Disarmament in Geneva
Ms Joanne Adamson has been appointed Permanent Representative to the UN Conference on Disarmament in Geneva.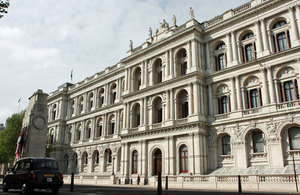 She will succeed Mr John Duncan OBE, and will take up her duties in August 2011. She will hold the personal rank of Ambassador.
Ms Adamson joined the FCO in 1989. Her home and overseas postings have focused mainly on Security Policy and Middle East policy. In addition, she spent three years working on secondment with the United Nations in the Middle East, Kosovo and New York.
On her appointment as Permanent Representative and Ambassador to the UN Conference on Disarmament, Ms Adamson said:
"I am delighted to be taking up this position. It is an exciting and challenging time to be working on multilateral arms control and disarmament, and I look forward to representing UK interests in this important area."
Curriculum vitae
Full name:
Joanne Adamson
In a Civil Partnership with: Elizabeth Eastwood
2009-present
Deputy Permanent Representative, UN Conference on Disarmament, Geneva
2007-2009
FCO, Deputy Head, Counter Proliferation Department
2002-2007
First Secretary (Middle East) British Embassy, Washington
1999-2002
Special Unpaid Leave, United Nations
1997-1999
FCO, Review Officer, Resources Directorate
1996-1997
FCO, Desk Officer, Gulf Section, Middle East Department
1995-1995
Committee Support Officer, UK Mission to the UN, New York
1992-1995
Third later Second Secretary (Political/Aid), British Consulate General, Jerusalem
1990-1992
Full Time Arabic Language Training
1989-1990
FCO, Assistant Desk Officer (Nuclear Issues)
Published 1 August 2011