Press release
Change of High Commissioner to Mozambique
Ms Joanna Kuenssberg has been appointed British High Commissioner to Mozambique.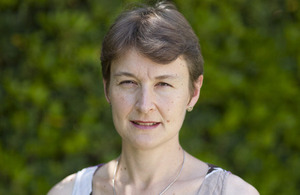 She will succeed Mr Shaun Cleary, who will be transferring to another Diplomatic Service appointment. Ms Kuenssberg will take up her appointment during April 2014.
Ms Kuenssberg joined the FCO in 1997 as a Europe specialist, after working on EU assistance programmes in the European Commission, and spent the next seven years on a range of EU political and economic issues. On returning from Paris, she worked closely with the Department for International Development and other government departments, as well as non-governmental organisations and businesses, to promote and extend responsible business practice especially in the extractives sector. This was followed by a project to use new technologies to develop more responsive consular services.
For the past three years, Ms Kuenssberg has covered Africa and other foreign policy issues in Lisbon, as well as politics and economics.
On her appointment as British High Commissioner to Mozambique, Ms Kuenssberg has said:
I am honoured and delighted to be appointed as British High Commissioner to Mozambique. Mozambique is a valued Commonwealth friend and I look forward to working to strengthen our countries' relationship even further, especially in support of our shared agenda of political and economic development.
Curriculum vitae
| Personal details |   |
| --- | --- |
| Full name: | Joanna Kate Kuenssberg |
| Marital status: | Married |
| Children: | Three sons |
| Period | Post |
| --- | --- |
| Aug 2010 - present | Lisbon, Deputy Head of Mission |
| Jan 2010 – July 2010 | Lisbon, Chargé d'Affaires |
| May 2010 – Aug 2010 | Full-time language training (Portuguese) |
| Mar 2010 – May 2010 | FCO, Policy Unit |
| Nov 2009 – Feb 2010 | Full-time language training (Russian) |
| Jul 2008 – Nov 2009 | FCO, Project Manager, Consular Strategy Programme |
| Aug 2004 – Aug 2007 | FCO, Business Team Leader, Global Business/Sustainable Development & Business Group |
| Feb 2001 – Aug 2004 | Paris, First Secretary (EU/Economic) |
| May 2000 – Jan 2001 | Secondment to Quai d'Orsay, EU Directorate |
| May 1999 – Apr 2000 | Secondment to Hungarian Ministry of Foreign Affairs |
| Jul 1997 – Apr 1999 | FCO, Deputy Head of Enlargement Section, EU Department |
| 1997 | Joined FCO |
| Aug 1996 – June 1997 | European Commission, Project Manager (EU enlargement) |
| Oct 1995 – Aug 1996 | Department of Environment, Desk Officer |
Further information
Follow the Foreign Office on twitter @foreignoffice
Follow the Foreign Office on facebook and Google+
Published 21 November 2013