Change of High Commissioner to Bangladesh
Mr Robert Winnington Gibson CMG has been appointed British High Commissioner to Bangladesh.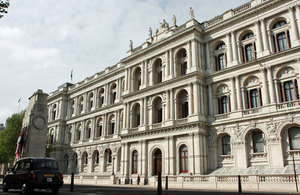 He will succeed Mr Stephen Evans CMG, OBE who will be transferring to another Diplomatic Service appointment. Mr Gibson will take up his appointment during July 2011.
Mr Gibson joined the Foreign Office in 1978. He has served in a number of diplomatic postings at home and overseas, mainly in the Middle East and Asia but has also undertaken a number of jobs in multilateral missions. He previously served as Deputy High Commissioner in Dhaka between 2002 and 2005. He was appointed CMG by Her Majesty in the 2011 New Year's Honours list.
On his appointment as British High Commissioner to Bangladesh, Mr Gibson said:
"I am honoured and delighted to have been appointed to this post. I retain a deep and abiding affection for Bangladesh and its people from my previous posting there. I look forward to resuming work in a country which enjoys such close and extensive relations with the United Kingdom."
Curriculum vitae
Full name:
Robert Winnington Gibson
2008-present
Karachi, Deputy High Commissioner and Director UK Trade and Investment Pakistan
2006-2007
Baghdad, Deputy Head of Mission
2002-2005
Dhaka, Deputy High Commissioner & Commercial Counsellor
1999-2001
FCO, Deputy Head, Whitehall Liaison Department
1995-1999
Paris, First Secretary, UK Delegation to OECD
1993-1995
FCO, Head, Saudi Arabian and Gulf Section, Middle East Department
1989-1993
FCO, Head of Peacekeeping and Finance Section, United Nations Department
1986-1989
Port of Spain, Second Secretary Chancery
1984-1985
UKREP Brussels, Second Secretary
1981-1984
Jeddah, HM Vice Consul
1979-1980
FCO, Middle East Centre for Arabic Studies
1978-1979
FCO, Desk Officer, European Integration Department
1978
Joined FCO
Published 21 February 2011