Change of Her Majesty's Ambassador to Vietnam
Dr Antony Stokes LVO has been appointed Her Majesty's Ambassador to the Socialist Republic of Vietnam.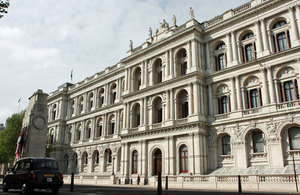 He will succeed Mr Mark Kent who will be transferring to another Diplomatic Service appointment. Dr Stokes will take up his appointment during November 2010.
Dr Stokes previously served as Head of Mission in Riga. As Head of South Asia Group, he was responsible for relations with India, Pakistan, Bangladesh, Nepal, Sri Lanka, Bhutan and the Maldives. In Seoul, he dealt with the United Kingdom's relations with the Republic of Korea and with the DPRK, and in Bangkok was accredited to Thailand and to the Lao PDR.
Dr Stokes has covered a number of security issues at the FCO including European security policy. He has represented the FCO on the Higher Command and Staff Course at the Joint Services Command and Staff College. HM The Queen awarded him the honour of LVO in 1996.
Before joining the FCO in 1994 he worked in private sector management roles. He has a PhD from University College London and an MA in electrical sciences from Queens' College, Cambridge.
On his appointment as Ambassador to the Socialist Republic of Vietnam, Dr Stokes said "It is a great honour to have been appointed as Her Majesty's Ambassador to Vietnam. This is a particular privilege following the Vietnamese and British Governments' joint declaration to develop relations into a strategic partnership."
Curriculum Vitae
Full name
Dr Antony Stokes LVO
2009-2010 Riga, Head of Mission
2005-2008 FCO, Head of South Asia
2005 Bangkok, Head of Tsunami Response Team
2000-2004
Seoul, Political Counsellor
1996-1999 Bangkok, First Secretary Political
1994-1996 FCO, Security Policy Department
1994 Centre for Exploitation of Science and Technology
1990-1994 Mars GB
1989-1990 Schlumberger
1987-1990 University College London
1983-1986 Queens' College, University of Cambridge
1984 Royal Greenwich Observatory
Published 20 October 2010