News story
Change of Her Majesty's Ambassador to the State of Eritrea
Dr Amanda Susannah Tanfield has been appointed Her Majesty's Ambassador to the State of Eritrea.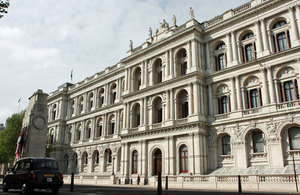 She will succeed Mrs Sandra Tyler-Haywood who will be transferring to another Diplomatic Service appointment. Dr Tanfield will take up her appointment during April 2012.
Dr Tanfield joined the FCO in 1998 after ten years as a scientist in the Ministry of Defence. Her career to date has focused on multilateral security issues such as arms control and drugs and crime, including in a regional context.
On her appointment as Her Majesty's Ambassador to the State of Eritrea, Dr Tanfield has said:
"I am honoured and delighted to have been chosen as Britain's next Ambassador to Eritrea, which is a beautiful country, though not without its challenges. I look forward to developing the UK's bilateral relationship with Eritrea and to getting to know its people and culture."
Curriculum vitae
Full name:
Dr Amanda Susannah Tanfield
Married to:
Matthew Vernon Connolly
April 11 - Oct 11
FCO, Libya Crisis Unit
May 08 - April 11
FCO, Head of Drugs and International Crime Department
Dec 03 - Dec 07
UKDel OSCE Vienna, Counsellor & Deputy Head of Mission
May 01 - May 03 FCO, Head of Iraq Policy, Middle East Department
Mar 98 - April 01
FCO, Head of UNSCOM & Regional Proliferation, Non Proliferation Department
1995 - 1998
MoD, Principal, Resources and Programmes (Air)
1992 - 1995
MoD, Principal, Directorate of Defence Policy
1988 - 1992
Other MoD posts
Published 20 January 2012