News story
Change of Her Majesty's Ambassador to the Republic of Uruguay
Mr Ben Lyster-Binns has been appointed Her Majesty's Ambassador to the Republic of Uruguay.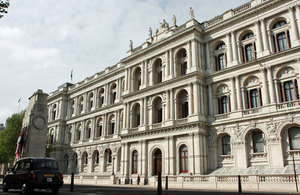 He will succeed Mr Patrick Mullee who will be transferring to another Diplomatic Service appointment. Mr Lyster-Binns will take up his appointment during July 2012.
Mr Lyster-Binns joined the FCO in 1989 and has carried out a variety of roles in London most recently as Deputy Head of the International Organisations Department of the FCO dealing with United Nations issues. His last overseas posting was to Lisbon, where he was Deputy Head of Mission.
On his appointment as Her Majesty's Ambassador to the Republic of Uruguay, Mr Lyster-Binns has said "I'm looking forward enormously to working for the United Kingdom in Uruguay. I'm keen to continue to strengthen the excellent relationship between our two countries and to promote a forward looking agenda of the United Kingdom's and Uruguay's top international priorities."
Curriculum vitae
Full name:
Ben Lyster-Binns
Married to:
Belinda
Children:
Three
2010
FCO, Deputy Head, International Organisations Department
2007-2010
FCO, Policy Advisor, Counter Terrorism Department
2003-2007
Lisbon, Deputy Head of Mission
2000-2003
FCO, Deputy European Correspondent and Head of EU General Affairs and External Relations Council/G8 Team, Common Foreign and Security Policy Department
1998-2000
FCO, Desk Officer, Human Rights Policy Department, including a secondment to the non-governmental organisation Article 19
1994-1998
Muscat, Political, Press and Public Affairs Officer
1991-1994
Lilongwe, Aid and Development Secretary
1989-1991
FCO, Desk Officer, Non-Proliferation Department
1989
Joined FCO
Published 15 March 2012