News story
Change of Her Majesty's Ambassador to the Republic of Lebanon
Tom Fletcher CMG has been appointed Her Majesty's Ambassador to the Republic of Lebanon.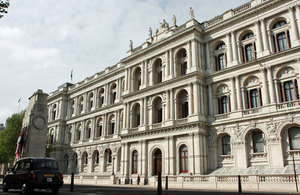 He will succeed Frances Guy who will be transferring to another Diplomatic Service appointment. Mr Fletcher will take up his appointment during August 2011.
Mr Fletcher served as the Prime Minister's Foreign Policy Adviser and Principal Private Secretary for Foreign Affairs in Downing Street from 2007-2011, working with three Prime Ministers. In this period, he was also the Prime Minister's principal No 10 adviser on Northern Ireland.
On his appointment as Her Majesty's Ambassador to the Republic of Lebanon, Mr Fletcher said:
"I am thrilled to be coming to Lebanon at such a pivotal period, and will do all I can to support our shared objectives of political and economic stability and protection of democratic and human rights."
Welcoming Fletcher's appointment at an event in Downing Street, Prime Minister David Cameron said:
"I am determined to further enhance our relationship with Lebanon and the wider Middle East, and Tom's appointment reflects that. At a time when our understanding of the region matters more than ever, I am sure he will bring the same energy and expertise to the role that he brought to his time in Downing Street".
Tom Fletcher was appointed CMG in the 2011 New Year's honours, for his contribution to British foreign policy and to stability in Northern Ireland.
Curriculum vitae
Full name:
Thomas Stuart Francis Fletcher
Married to:
Louise Fitzgerald
Children:
One son
2007-2011
Private Secretary for Foreign Affairs to the Prime Minister. Prime Minister's principal adviser on Northern Ireland
2004-2007
British Embassy Paris, First Secretary
2002-2004
FCO, Private Secretary to FCO Ministers Baroness Amos and Chris Mullin
1998-2002
British High Commission Nairobi, Second Secretary Political
1997-1998
FCO, Desk Officer, Middle East Peace Process
1997
Joined FCO
Published 28 March 2011