News story
Change of Her Majesty's Ambassador to the Republic of Hungary
Mr Graeme Jonathan Knott has been appointed Her Majesty's Ambassador to the Republic of Hungary.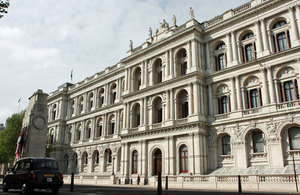 He will succeed Mr Greg Dorey who will be transferring to another Diplomatic Service appointment. Mr Knott will take up his appointment during March 2012.
Mr Knott joined the FCO in 1988 and was most recently Deputy Head of Mission and Director for Trade and Investment in South Korea. He has previously held a variety of diplomatic posts at home and abroad, several with a particular focus on commercial and corporate finance issues.
On his appointment as Her Majesty's Ambassador to the Republic of Hungary, Mr Knott said:
"I am delighted and honoured to be taking up this posting. I very much look forward to working closely with the Government of Hungary on a wide range of issues of mutual interest - both bilaterally and in multilateral forums such as the EU, UN and NATO, which both our countries value so highly. I also look forward to developing our countries' substantial commercial partnership."
Curriculum vitae
Full name:
Graeme Jonathan Knott
Married to/ partner:
Angela Susan Knott
Children:
One daughter
April 08 - Present
Seoul, Deputy Head of Mission and Director UKTI
2006-2008
FCO, Head of Financial Planning and Performance Department
2005-2006
FCO, Director of FCO Services Change Programme
2000-2005
UKDel OECD Paris, First Secretary (Trade and Finance Negotiator)
1996-2000
Mexico, First Secretary (Head of Political/Economic/Aid Section)
1995-1996
FCO, Deputy European Correspondent, EU Directorate
1991-1995
Havana, Third later Second Secretary (Political / PPA)
1990-1991
FCO, Desk Officer Sanctions enforcement, Gulf War Emergency Unit
1988-1990
FCO, Desk Officer, Anti Drugs Cooperation Department
1988
Joined FCO
Published 31 March 2011