News story
Change of Her Majesty's Ambassador to the Republic of Guinea
Mr Graham Charles Trayton Styles has been appointed Her Majesty's Ambassador to the Republic of Guinea.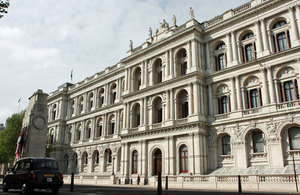 He will succeed Mr Ian Felton who will be transferring to another Diplomatic Service appointment. Mr Styles will take up his appointment at the end of September 2011.
Mr Styles joined the FCO in 1977. His home and overseas postings have included both bilateral and multilateral policy work; most recently, he represented the UK in a number of International Organisations in Vienna.
On his appointment as Her Majesty's Ambassador to the Republic of Guinea Mr Styles said:
"I am delighted and honoured to be appointed as Her Majesty's Ambassador to Guinea at this important time as Guinea strengthens its democracy. I look forward to ensuring the UK continues to be a strong partner in this process and in building a more prosperous future for Guinea's people by encouraging a deeper commercial relationship."
Curriculum vitae
Full name:
Graham Charles Trayton Styles
Married to:
Rachel Jane Styles
Children:
Two Daughters
Feb 2006 - July 2011
UK Mission Vienna, First Secretary
Jan 2004 - Dec 2005
FCO, Head of Mekong and Burma Team, South East Asia Department
Nov 2002 - Jan 2004
FCO, Departmental Report Writer, Directorate for Strategy and Innovation
Jan 2001 - Nov 2002
FCO, UK National Contact Point for EU Twinning Programme, EUD(E)
Aug 1998 - Jan 2001
FCO, Desk Officer Sierra Leone, Africa Department (Equatorial)
Jun 1995 - Jul 1998
Vienna, Third Secretary, UK Delegation to the OSCE
Jan 1992 - Dec 1994
FCO, Postings Officer, Personnel Management Department
Mar 1989 - Jan 1992
Paris, Entry Clearance Officer
Mar 1985 - Oct 1988
Port Louis, Registry/Communications Officer
Oct 1981 - Dec 1984
FCO, Registry Officer, Eastern European Soviet Department
Sept 1978 - Sept 1981
Birmingham University
Sept 1977-Sept 1978
FCO, Registry Oficer, Central and Southern African Department
Published 16 August 2011