News story
Change of Her Majesty's Ambassador to the Republic of El Salvador
Mrs Linda Mary Cross MBE has been appointed Her Majesty's Ambassador to the Republic of El Salvador in succession to Ms Julie Chappell OBE who was Her Majesty's Non-Resident Ambassador.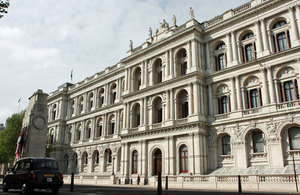 Mrs Cross will take up her appointment during May 2012.
The decision to re-open our Embassy in El Salvador was announced in May 2011 as part of the UK government's policy of strengthening relations with Latin America. The work of the Embassy will focus on the FCO's prosperity and security agendas.
Mrs Cross joined the FCO in 1978 and has previously served in Latin America, with two postings to the Republic of Ecuador.
On her appointment as Her Majesty's Ambassador to the Republic of El Salvador, Mrs Cross said:
"I am delighted to have been given this opportunity of putting into effect the UK government's policy of strengthening relations with this important region. I look forward to building on the work of our Embassy in Guatemala and deepening our relations with El Salvador."
Curriculum vitae
Full name:
Linda Mary Cross, MBE
Married to:
Mike Cross
May 08 - present
Her Majesty's Ambassador, Quito
July 07 - March 08
FCO, Assistant Director, Protocol Directorate
March 05 - July 07
FCO, Operations Manager, Event Management Group
Feb 01 - Feb 05
Yekaterinburg, Her Majesty's Consul General
July 98 - Jan 01
Baku, Deputy Head of Mission and Consul
August 97 - Sept 97
Tirana, Acting Head of Mission
Jan 95 - July 97
UKMis New York, Third, later Second Secretary
Feb 92 - Aug 94
Vienna, Third Secretary and Vice Consul
March 78 - July 91
Postings to Rabat, Prague, Quito, Washington and Paris, followed by a posting as Executive Secretary to Diplomatic Service Wives Association (now Diplomatic Service Families Association)
Published 6 February 2012