Change of Her Majesty's Ambassador to Panama
Mr Michael John (MJ) Holloway OBE has been appointed Her Majesty's Ambassador to the Republic of Panama.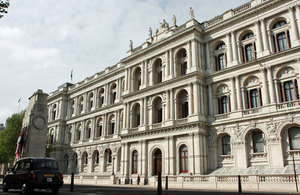 He will succeed Mr Richard Austen MBE who will be transferring to another Diplomatic Service appointment. Mr Holloway will take up his appointment during January 2011.
Since 2002, MJ Holloway has been at the forefront of improving FCO's customer services, and efficiency programmes. As Director for Consular Services in Iberia since 2005, MJ has led the FCO's largest and busiest consular network providing support services to over 1 million British residents and about 18 million British visitors to the region. MJ was awarded an OBE in 2009 for modernising and improving consular support services for Brits overseas.
Until 2005, MJ was Deputy Head of Resources for the Europe Directorate - managing the budget of some 80 Embassies and Consulates across Europe. From 2002-2003, MJ was Director for Visa Services in Dhaka - where he pioneered new visa service delivery and operating models.
MJ's career has focussed on Latin America and Iberia. He has previously served as Deputy Consul-General in Rio de Janeiro where he led the trade and investment team at a time when UK companies where breaking into Brazil's emerging energy sector. Before that, he was Political and Press Secretary at the British Embassy in Mexico City, and Vice-Consul at the British Consulate-General in Barcelona.
On his appointment as Her Majesty's Ambassador to Panama, Mr Holloway has said:
"I am delighted and honoured to be appointed Ambassador to Panama, the most dynamic and strategically important country in the region. And to be so at a time when the FCO will have increased focus on helping British companies secure more overseas trade. Building on the already considerable links and cooperation between the two countries, I'm looking forward to working with the Panamanians to see how this can be taken further for mutual benefit."
Curriculum vitae
Full name: Michael John Holloway OBE
2005-July 2010 Madrid, Her Majesty's Consul-General Spain and Regional Consular Director Iberia
2003-2005 FCO, Deputy Head of Resource Management Unit, Europe Directorate
2002-2003 Dhaka, Director, Visa Services
1998-2002 Rio de Janeiro, Deputy Consul-General
1994-1997 Mexico City, Second Secretary (Political/Press)
1992-1993 FCO/ODA, Know How Fund Manager, Czech/Slovak Republics
1990-1992 FCO, Parliamentary Desk Officer, Europe Department (Internal)
1988-1990 Barcelona, Vice Consul (Political/Press/Consular)
1984-1987 FCO, Assistant Reviewer, Management Officer/Accountant
1981-1982 African/Middle East Floater
1979-1981 Bucharest, Assistant Management Officer/Accountant
1978 Dubai, Vice Consul (Temporary Duty)
1976-1977 FCO, Travel Accounts, Finance Department
1976 Joined FCO
Published 1 September 2010