News story
Change of Her Majesty's Ambassador to Eritrea
Mr David Ward has been appointed Her Majesty's Ambassador to Eritrea.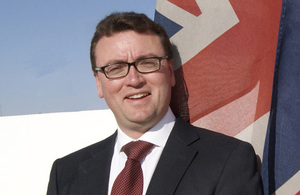 He will succeed Dr Amanda Tanfield, who will be transferring to another Diplomatic Service appointment. Mr Ward will take up his appointment during May 2014.
Mr Ward joined the FCO in 1992 and has worked mainly on Asian affairs since, including two postings in East Asia, in Tokyo and Beijing, and also one in Nepal. He has also acquired experience working in conflict zones, including as Deputy Head of Mission responsible for re-establishing the British Embassy in Libya in 2011 and 2012, and most recently as Deputy Head of the multinational Provincial Reconstruction Team in Lashkar Gah, Helmand Province, Afghanistan.
On his appointment as Her Majesty's Ambassador to Eritrea, Mr Ward has said:
I am delighted to have been appointed to this position and to have been given the opportunity to develop the bilateral relationship between the United Kingdom and Eritrea. I look forward to getting to know better the people of Eritrea, their country and their culture".
Curriculum vitae
| Personal details |   |
| --- | --- |
| Full name: | David Ward |
| Period | Post |
| --- | --- |
| Jan 2013 – present | Lashkar Gah, Deputy Head of Mission, Provincial Reconstruction Team |
| Oct 2012 – Nov 2012 | Athens, Counsellor (Political) |
| Jun 2012 – Sep 2012 | FCO, Silver Manager, Olympic Coordination Centre |
| Dec 2011 – Apr 2012 | Tripoli, Deputy Head of Mission |
| Aug 2011 – Nov 2011 | FCO, Acting Deputy Head, Libya Unit |
| May 2010 – Aug 2011 | FCO, Senior Strategy Adviser, Policy Unit |
| Jan 2010 – Apr 2010 | FCO, Head of Finance Briefing Unit |
| Jan 2006 – Dec 2009 | Beijing, Deputy Counsellor (Political) |
| Jan 2002 – Jul 2005 | Kathmandu, Deputy Head of Mission |
| Oct 1998 – Dec 2001 | FCO, Head of Institutions Section, Common Foreign and Security Policy Department |
| Sep1995 – Oct 1998 | Tokyo, Second Secretary (Political) |
| Jan 1994 – Aug 1995 | Full-time language training (Japanese) |
| Oct 1992 – Dec 1993 | FCO, Assistant Desk Officer, EU Department (External) |
| 1992 | Joined FCO |
Further information
Follow the Foreign Office on twitter @foreignoffice
Follow the Foreign Office on facebook and Google+
Published 17 December 2013