Change of Her Majesty's Ambassador to Bulgaria
Mr Jonathan Allen has been appointed Her Majesty's Ambassador to the Republic of Bulgaria.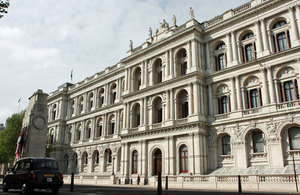 He will succeed Mr Steve Williams who will be taking up a new appointment outside the Diplomatic Service. Mr Allen will take up his appointment during the second half of 2011.
Jonathan Allen is currently Head of the East Africa and Great Lakes Department of the FCO. Prior to that he established and led RICU, a cross-Government Counter-Terrorism communications unit, and was Assistant Director in the Home Office's International Directorate with responsibility for Bulgarian and Romanian entry into the EU.
He began his career on EU issues and has been posted to Cyprus and Brussels, where he was Government Spokesman during the UK Presidency in 2005.
On his appointment as Her Majesty's Ambassador to the Republic of Bulgaria, Mr Allen has said "I am thrilled to be appointed to be Ambassador to Bulgaria. The UK and Bulgaria need to work together in the EU, in NATO and on a range of country to country issues. I look forward to helping the thousands of Brits who holiday in Bulgaria and the British companies who trade there. My wife, Liz, and I are excited at the prospect of exploring this beautiful country and at making new Bulgarian friends."
Curriculum vitae
Full name: Jonathan Guy Allen
Married to:
Elizabeth Patricia Allen
May 2009 - present FCO, Head, Africa Department (East Africa, Great Lakes, Strategy)
2007 - 2009
Office for Security and Counter-Terrorism, Head of Research, Information and Communications Unit
2006 - 2007 Home Office, Assistant Director, International Directorate
2003 - 2006
UKRep Brussels, Government Spokesman
2002 - 2003
FCO, Head of Cyprus Section
1999 - 2002
Nicosia, Second Secretary (Political/Press)
1998 - 1999 FCO, Full-time Greek language training
1997 - 1998 FCO, Common Foreign and Security Policy Department
1997 Joined the FCO
Published 21 December 2010