Press release
Change of Her Majesty's Ambassador to Algeria
Mr Andrew Noble has been appointed Her Majesty's Ambassador to Algeria.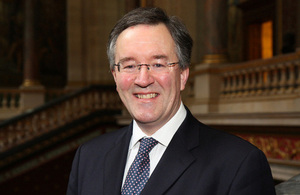 He will succeed Mr Martyn Roper, who will be transferring to another Diplomatic Service Appointment. Mr Noble will take up his appointment during June 2014.
Mr Noble joined the FCO in 1982. He was most recently Deputy Head of Mission in Berlin and has also served in South Africa, Greece and Romania.
On his appointment as Her Majesty's Ambassador to Algeria, Mr Noble has said:
I am delighted to have been appointed as British Ambassador to Algeria.

Bilateral relations between Algeria and the UK are in excellent shape and have grown significantly in recent years, furthered by the visit by UK Prime Minister David Cameron in January 2013.

I greatly look forward to taking our relations to a new level across the range of our interests on security, defence, trade, prosperity, English language and Higher Education. Algeria is a key regional player and the UK wishes to deepen its relations further with an important partner.
Curriculum vitae
| Personal details |   |
| --- | --- |
| Full name: | Andrew James Noble LVO |
| Married to: | Helen Natalie Pugh Noble |
| Children: | Four |
| Period |   |
| --- | --- |
| Aug 2010 – Aug 2013 | Berlin, Deputy Head of Mission, Consul General & Counsellor (Political) |
| Jul 2009 – Aug 2010 | Berlin, Counsellor (Political) |
| Apr 2007 – Mar 2009 | FCO, Director, Security & Estates |
| May 2005 – Apr 2007 | FCO, Director, Security |
| Aug 2001 – May 2005 | Athens, Deputy Head of Mission & Consul General |
| Jul 1998 – Mar 2001 | FCO, Deputy Head, Security Policy Department |
| Jun 1994 – Jul 1998 | Cape Town/Pretoria, Head of Political Section |
| Sep 1991 – Mar 1994 | FCO, Desk Officer, later Deputy Head, Security Coordination Department |
| Nov 1989 – Sep 1991 | FCO, Desk Officer, European Community Department (External) |
| May 1987 – Nov 1989 | Bonn, Second Secretary (Political) |
| Oct 1986 – May 1987 | Secondment to German Foreign Ministry |
| Dec 1983 – Oct 1986 | Bucharest, Third, later Second Secretary (Political) |
| 1982 | Joined FCO |
Further information
Follow the Foreign Office on twitter @foreignoffice
Follow the Foreign Office on facebook and Google+
Published 11 February 2014