News story
Change of Her Majesty's Ambassador to the Republic of Moldova
Mr Philip David Batson has been appointed Her Majesty's Ambassador to the Republic of Moldova.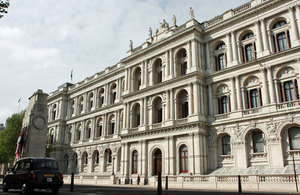 He will succeed Mr Keith Shannon who will be transferring to another Diplomatic Service appointment. Mr Batson will take up his appointment during April 2013.
Mr Batson joined the FCO in 1987. He has carried out a variety of roles both in the FCO and overseas, but with a particular focus on governance and human rights issues. His most recent role included preparing the FCO's contingency plans for the London 2012 Olympic and Paralympic Games.
On his appointment Mr Batson has said "I feel very privileged to have been appointed Her Majesty's Ambassador to the Republic of Moldova. I am greatly looking forward to representing the United Kingdom, to promoting British interests in Moldova and furthering our shared interests"
Curriculum vitae
Full name:
Philip David Batson
Married to:
Joanna Batson
Children:
One son
May 2011 - Present
FCO, 2012 Games-time coordinator and crisis planner
Dec 2008 - Apr 2011
FCO, Deputy Head, Corporate Services Programme
Nov 2004 - Oct 2008
Tunis, Deputy Head of Mission
Aug 2002 - June 2004
FCO, Head of France/Benelux Section, Europe Directorate
June 2000 - Aug 2002
FCO, Head of Horn of Africa Section, Africa Directorate
Nov 1999 - Apr 2000
FCO, EU Africa Summit/Pan Africa Co-ordinator, Africa Directorate
Oct 1997 - Oct 1999
FCO, Desk Officer, Overseas Territories Department
Jan 1995 - Aug 1997
Paris, Third Secretary Political
Feb 1991 - June 1994 Bombay (Mumbai), Entry Clearance Officer
Jan 1987 Joined FCO
Published 22 October 2012