News story
Change of Her Majesty's Ambassador to the Kingdom of Morocco and Non-Resident Ambassador to the Islamic Republic of Mauritania
Mr Clive Alderton has been appointed Her Majesty's Ambassador to the Kingdom of Morocco and Non-Resident Ambassador to the Islamic Republic of Mauritania.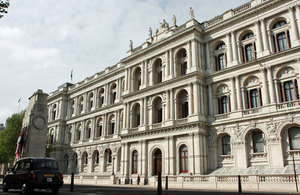 He will succeed Mr Timothy Morris who will be transferring to another Diplomatic Service appointment. Mr Alderton will take up his appointment during late 2012.
Mr Alderton joined the FCO in 1986 and has served overseas in Poland, Belgium (European Union), Singapore and France.
On his appointment, Mr Alderton has said "Having served as a Private Secretary to The Prince of Wales since 2006, I am delighted and honoured to be appointed Her Majesty's Ambassador to Morocco and Mauritania. I came to know Morocco a little during last year's Royal Visit and was immediately fascinated by the depth of her culture and traditions, the warmth of her people and the opportunities which exist for co-operation in a wide range of areas. I greatly look forward also to deepening my knowledge of Mauritania and throwing all my energies into further developing the bonds of friendship between our countries to help deliver tangible benefits for British, Moroccan and Mauritanian interests"
Curriculum vitae
Full name: Clive Alderton
Married to:
Mrs Catriona Canning Alderton
Children:
One daughter (born 1998) and one son (born 2000)
2006 - Present
Private Secretary to Their Royal Highnesses The Prince of Wales and The Duchess of Cornwall
2004 - 2006
France, Her Majesty's Consul-General at Lille
1998 - 2003
Singapore, Head of Chancery and Deputy Head of Mission
1996 - 1998
FCO, Head of Indo-China Section, SEAD
1993 - 1996
FCO, Desk Officer, Far Eastern Department
1990 - 1993
UKRep Brussels
1988 - 1990
Warsaw
Published 18 April 2012