News story
Change of Her Majesty's Ambassador to the Holy See
Mr Nigel Marcus Baker OBE MVO has been appointed Her Majesty's Ambassador to the Holy See.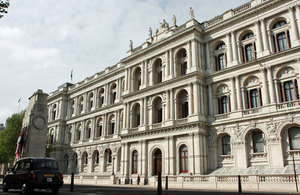 He will succeed Mr Francis Campbell who has transferred to another Diplomatic Service appointment. Mr Baker will take up his appointment during August 2011.
Mr Baker is a career member of HM Diplomatic Service. He joined the FCO in 1989, since when his career has taken him principally to Central Europe and Latin America, most recently as HM Ambassador to Bolivia. Mr Baker also worked in the Private Office of HRH The Prince of Wales from 2003 to 2006. Between 1996 and 1998 he lived and worked in Italy on an academic sabbatical.
On his appointment as Her Majesty's Ambassador to the Holy See, Mr Baker has said:
"I am delighted and honoured to be taking up this posting. The last few years have seen the development of a strong and fruitful global partnership between the United Kingdom and the Holy See.
"The historic visit of Pope Benedict XVI in September 2010 reinforced that relationship and opened new avenues for bilateral and multilateral collaboration. I look forward to the challenge of deepening our engagement across the many issues on which we work together."
Curriculum vitae
Full name:
Nigel Marcus Baker OBE MVO
Married to: Alexandra (Sasha) Baker
Children:
One son
Sep 2007 - to present
British Embassy La Paz, Her Majesty's Ambassador
Oct 2003 - Nov 2006
British Embassy Havana, Deputy Head of Mission
Jun 2000 - Apr 2003
Assistant Private Secretary to HRH The Prince of Wales
Jun 1998 - Jun 2000
FCO, Head of European Defence Section, Security Policy Department
Mar 1998 - Jun 1998
FCO, UK EU Presidency
Aug 1993 - Jan 1996
British Embassy Bratislava, Deputy Head of Mission
Feb 1992 - Aug 1993
British Embassy Prague, Second Secretary (Economic),
Jun 1990 - Jun 1991 FCO, Desk Officer, Near East and North Africa Department
September 1989 Joined Foreign & Commonwealth Office
Published 15 April 2011