News story
Change of Her Majesty's Ambassador to the Argentine Republic and Non-Resident Ambassador to the Republic of Paraguay
Dr John Freeman has been appointed Her Majesty's Ambassador to the Argentine Republic and Non-Resident Ambassador to the Republic of Paraguay.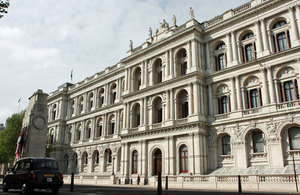 He will succeed Ms Shan Morgan who will be transferring to another Diplomatic Service appointment. He will take up his appointment during summer 2012.
John Freeman joined the Diplomatic Service in 1986 and has since served in a wide range of appointments in London and overseas dealing with countries as varied as South Africa, Central and Eastern Europe, and Singapore, and with a wide range of international issues, including non-proliferation, international terrorism, and drugs policy. He has also covered economic and commercial issues in Posts overseas.
On his appointment as Her Majesty's Ambassador to the Argentine Republic and Non-Resident Ambassador to the Republic of Paraguay, John Freeman has said "I am honoured and delighted to be posted to Buenos Aires as Ambassador. I am much looking forward to taking up my appointment and grateful for the opportunity to get to know the important and wonderfully varied country that is Argentina today. I will work hard to contribute to the development of a relationship of mutual benefit to the United Kingdom and Argentina. I am also honoured to have been appointed as Non-Resident Ambassador to the Republic of Paraguay. I look forward to visiting the country on a regular basis and to helping to build upon the bilateral relationship between the United Kingdom and Paraguay."
Curriculum vitae
Full name:
John Freeman
Married to:
Corinna Freeman
Children:
Two
2006 - 2011
Secondment, Deputy Director-General of the Organisation for the Prohibition of Chemical Weapons, The Hague, The Netherlands
2004 - 2006
Her Majesty's Ambassador for Multilateral Arms Control [from 2005] and Her Majesty's Ambassador and Permanent Representative to the UN Conference on Disarmament [from 2004], Geneva
2001 - 2004
Brussels, Deputy Permanent Representative at NATO and Alternate Representative on the North Atlantic Council
1997 - 2001
Her Majesty's Ambassador and Permanent Representative to the UN agencies in Vienna
1994 - 1997
Singapore, Deputy High Commissioner and Commercial and Economic Counsellor
1994
Attached to the Trade Promotion division of the Department of Trade and Industry
1991 - 1994
FCO, Deputy Head of the Eastern (later Central) European Department, and, secondly, as Head of the Security Co-ordination Department
1989 - 1991
Senate Liaison, British Military Government in Berlin, and subsequently Head of the Political Section in the Berlin Office of the British Embassy in Germany
1986 - 1989
FCO, Head of South Africa Section
#
Published 9 March 2012