Change of Her Majesty's Ambassador to Montenegro
Mr Ian Robert Whitting OBE has been appointed Her Majesty's Ambassador to Montenegro.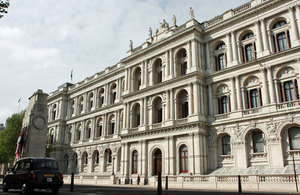 He will succeed Ms Kate Knight-Sands who will be transferring to another Diplomatic Service appointment. Mr Whitting will take up his appointment during August 2013.
Mr Whitting joined the FCO in 1972 and has worked mostly on European and African affairs. Most recently he served as HMA Reykjavik until October 2012.
On his appointment Mr Whitting has said "I am honoured and delighted to be appointed Ambassador to Montenegro. I look forward to developing further our strong relationship during this important phase in Montenegro's history"
Curriculum vitae
Full name: Ian Robert Whitting
Married to:
Tracy Gallagher
Children:
Two daughters Isobel and Olivia
July 2008 - present
Her Majesty's Ambassador, Reykjavik
July 2003 - Jan 2008 Athens, Deputy Head of Mission/Consul General/ EU/ Economic Section Head
Nov 2002 - Jun 2003 FCO, Assistant Director EU (Bilateral and Resources)
Sept 1998 - Sept 2002
FCO, Deputy Head Africa Dept (Equatorial), Secretary of State Great Lakes Special Rep (2001-2002)
July 1997 - Aug 1998
FCO, Conference Media Coordinator
July 1994 - July 1997
Abidjan, Deputy Head of Mission, Head of Trade Development and Consul
April 1972 - May 1997
Various postings including Dublin,1st Sec EU/Economic, Moscow, 2nd Sec Chancery, Athens, Press Attache , Tunis and Cairo, 3rd Sec .
Published 15 November 2012