Change of Her Majesty's Ambassador to Jordan
Mr Peter Millett has been appointed Her Majesty's Ambassador to the Hashemite Kingdom of Jordan.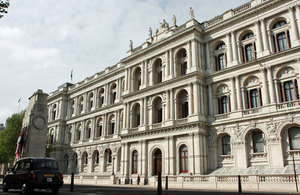 He will succeed Mr James Watt CVO who will be transferring to another Diplomatic Service appointment. Mr Millett will take up his appointment during February 2011.
Mr Millett joined the FCO in 1974 and has worked in London, South America, the Gulf, Brussels, Athens and, most recently, as High Commissioner in Cyprus.
On his appointment as Ambassador to Jordan, Mr Millett said: "I am looking forward to returning to the Middle East and getting to know Jordan and its people.
"Jordan has a vital role to play in the region and in world affairs. This appointment is an exciting opportunity for me to play a role in promoting the close relationship between Jordan and the United Kingdom."
Curriculum vitae
Full name:
Peter Joseph Millett
Married to:
June Millett
Children:
Three daughters
2005 - present
Nicosia, British High Commissioner
2002 - 2005
FCO, Director, Security
2001 - 2002
FCO, Counsellor, Counter Terrorism Policy Department
1997 - 2001
Athens, Deputy Head of Mission
1996 - 1997
FCO, Head, Allowances Review Team
1993 - 1996
FCO, Head, Personnel Policy
1989 - 1993
UKRep Brussels, First Secretary (Energy)
1988 - 1989
FCO, Desk Officer, United Nations Department
1986 - 1988
FCO, Assistant Private Secretary to the Foreign Secretary
1985 - 1986
FCO, Postings Officer, Personnel Operations Department
1981 - 1985
Doha, Second Secretary (Political)
1978 - 1980
Caracas, Vice-Consul
1976 - 1977
Latin America Floater
1974 - 1975
FCO, Desk Officer, EU Department (External)
1974
Joined the FCO
Published 24 June 2010