Change of Her Majesty's Ambassador to Georgia
Ms Judith Gough has been appointed Her Majesty's Ambassador to Georgia in succession to Mr Denis Keefe.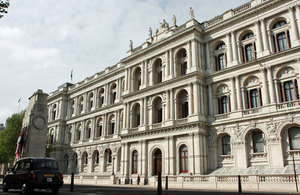 Mr Keefe will be transferring to another Diplomatic Service appointment. Ms Gough will take up her appointment during September 2010.
Ms Gough joined the FCO in 2001 from Ernst and Young, where she worked as a Senior Management Consultant specialising in Financial Services and Emerging Markets.
Her first role in the FCO was as Desk Officer for Gibraltar, after which she went on to be Head of the Albania, FYR Macedonia and Balkans Strategic Policy Team.
From 2004 to 2007 Ms Gough was posted to Seoul as Political Counsellor during which time she was head of Chancery as well as being responsible for Press and Public Affairs and Economic issues. On her return to London in 2007 Ms Gough became Deputy Director of the Shared Services Programme, responsible for designing future models for a more cost-efficient FCO.
Since 2008 Ms Gough has been Deputy Head of Security Policy Group, with responsibility for arms control, nuclear disarmament and international security, including managing the UK's participation in the 2010 NPT Review Conference.
On her appointment as Ambassador to Georgia, Ms Gough has said 'I am delighted to be going to Georgia to continue to develop our support for Georgia's democratisation process and the search for peaceful resolution of the conflicts. I very much look forward to working in this beautiful and historic country'.
Curriculum vitae
Full name: Judith Gough
Dec 2008 - present FCO, Deputy Head, Security Policy Group
2007- 2008 FCO, Deputy Director, Shared Services Programme
2004 - 2007 Seoul, Political Counsellor
2002 - 2004 FCO, Head, Albania, FYR Macedonia and Balkans Strategic Policy Team
2001 - 2002 FCO, Gibraltar Desk, Southern European Department
2001 Joined FCO
1997-2001 Senior Consultant, Financial Services, Ernst and Young Management Consultancy Services
1995-1997 Assistant Consultant, Emerging Markets Practice, Ernst and Young Management Consultancy Services
Published 15 June 2010