Change of Her Majesty's Ambassador to Egypt
Mr James Watt CVO has been appointed Her Majesty's Ambassador to the Arab Republic of Egypt.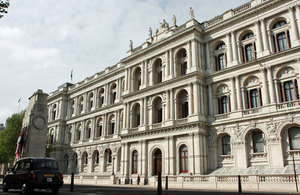 He will succeed The Honourable Dominic Asquith CMG who will be transferring to another Diplomatic Service appointment. Mr Watt will take up his appointment during March 2011.
Mr Watt joined the FCO in 1977 and began his diplomatic career in the Trade Relations and Exports Department. From 1978 to 1980 he undertook full-time language training in Arabic ahead of his first posting to Abu Dhabi as Second, later First, Secretary Political.
After leaving Abu Dhabi in 1983, and working in the FCO's Mexico and Central America Department, he joined the United Kingdom Permanent Mission to the United Nations in New York in 1985, covering Middle Eastern and Peacekeeping affairs in the Security Council and General Assembly.
In 1989 he returned to London as Deputy Head of the United Nations Department and Head of Human Rights Unit. In 1992 he became Deputy Head of Mission in Amman, with the rank of Counsellor.
There followed a posting to Pakistan in 1996 as Deputy High Commissioner, with additional responsibilities for Afghanistan (there being no resident British staff at the Embassy in Kabul at the time).
In 1998-99 Mr Watt undertook research during a sabbatical year at the School of Oriental and African Studies in London, and in 2000 was appointed Head of Consular Division (later renamed Director of Consular Affairs) at the FCO.
In 2003 he was appointed Ambassador to Lebanon, and in 2006 Ambassador to Jordan. He will be accompanied to Cairo by his wife, Amal. The couple have five grown-up children between them from their previous marriages, and homes in London and Beirut.
On his appointment as Her Majesty's Ambassador to the Arab Republic of Egypt Mr Watt has said: "Egypt's role is critical for the future stability and success of much of the region. Britain has strong shared interests with Egypt, and I intend us to continue being an engaged and active partner, drawing on all the resources we have to offer."
Curriculum vitae
Full name: James Wilfrid Watt
2006 - present Amman, HM Ambassador
2003-2006
Beirut, HM Ambassador
2000-2003
FCO, Head of Consular Division / Director Consular
1999-2000 Sabbatical, School of Oriental and African Studies (Iraq Studies)
1996-1998
Islamabad, Deputy High Commissioner, also covering Afghanistan
1992-1996
Amman, Deputy Head of Mission
1989-1992
FCO, Assistant Head of UND and Head of Human Rights Unit
1985-1989
UKMis New York, First Secretary (Middle East and Peacekeeping)
1983-1985
FCO, Mexico/Central America Department
1980-1983
Abu Dhabi, Second later First Secretary Political
1978-1980
Full-time Arabic Language training
1977-1978
FCO, Trade Relations and Exports Department
1977
Joined FCO
Published 22 June 2010