Change of Her Majesty's Ambassador to Algeria
Mr Martyn Roper has been appointed Her Majesty's Ambassador to the People's Democratic Republic of Algeria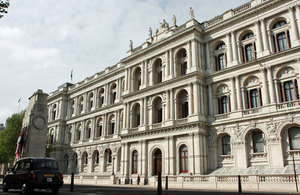 Mr Roper will succeed Mr Andrew Henderson who will be transferring to another Diplomatic Service appointment. Mr Roper will take up his appointment during December 2010.
Mr Roper joined the FCO in 1984 and his first job was in the Middle East Department where he was a part of the Saudi Arabia, Oman and Yemen Team. He then undertook postings in Tehran, Maputo, Kuwait, Baghdad and Karachi doing a range of communications, consular, development, political and visa work.
On returning to London in 1994, he worked in the United Nations Department's Political section. In 1996 he became head of the Gibraltar team in Southern European Department.
He was posted to the UK Delegation to the OECD in Paris in 1999 as First Secretary Economics/Development. He was the UK Representative to the OECD Development Assistance Committee and Economic Development and Review Committee.
Mr Roper returned to London in 2003 and worked temporarily in Conflict Issues Group before taking over as Deputy Head of United Nations Department, subsequently International Organisations Department.
In 2007, he was appointed Deputy Head of Mission at the British Embassy in Brazil.
On his appointment as Her Majesty's Ambassador to Algeria, Mr Roper has said "I am delighted to have the opportunity to play my part in strengthening and deepening the relationship between the United Kingdom and Algeria.
"There is much we can do together. Algeria is an important source of energy for Europe, an ally in the fight against terrorism and an expanding market for UK goods and services. It is an exciting time to be taking up my post."
Curriculum vitae
Full name: Martyn Keith Roper
Married to: Elisabeth Melanie Harman Roper
Children: Two
2007 - present Brasilia, Deputy Head of Mission
2004 - 2006 FCO, Deputy Head, International Organisations Department
Sept '03 - Dec '03 FCO, Conflict Issues Group (temporary duty)
1999 - 2003 Paris (UKDEL OECD), First Secretary Economics / Development
1997 - 1998 FCO, Head of Gibraltar Team, Southern European Department
1994 - 1996 FCO, Political Team, United Nations Department
1991 - 1993 Karachi, Third Secretary (Political / Aid)
Aug '90 - Dec '90 Baghdad, Vice-Consul
Apr '90 -Aug '90 Kuwait City, Vice-Consul
1988 - 1990 Maputo, Communications Officer
1986 - 1987 Tehran, Communications Officer
1984 - 1986 FCO, Saudi Arabia, Oman and Yemen Team, Middle East Department
1984 Joined FCO
Published 17 June 2010