Change of Governor of the Falklands Islands
Mr Colin Roberts CVO has been appointed Governor of the Falkland Islands and Commissioner of South Georgia and South Sandwich Islands.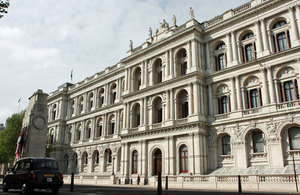 He will succeed Mr Nigel Robert Haywood CVO, who will be transferring to another Diplomatic Service appointment. Mr Roberts will take up his appointment during April 2014.
Mr Roberts joined the FCO in 1989. He is currently Director for Eastern Europe and Central Asia having served as Director for the Overseas Territories from 2008-2012. His FCO career has covered a wide range of roles including European Union affairs, security policy, Eastern Europe and the Far East as well as the Overseas Territories.
On his appointment as Governor of the Falkland Islands, Mr Roberts has said:
I'm delighted to be appointed as Governor of the Falkland Islands and HM Commissioner for South Georgia and the South Sandwich Islands. I am a great admirer of the achievements of the people of the Falkland Islands. I look forward to working with the community and their elected representatives for a secure and prosperous future.
Curriculum Vitae
| | |
| --- | --- |
| Full name: | Colin Roberts |
| Married to: | Camilla |
| Children: | Oliver (b. 2002), Alexander (b.2004) |
| | |
| --- | --- |
| 2012 – present | FCO, Director, Eastern Europe and Central Asia Directorate |
| 2008 – 2012 | FCO, Director, Overseas Territories Directorate, Her Majesty's Commissioner, British Antarctic Territory and Her Majesty's Commissioner, British Indian Ocean Territory |
| 2004 – 2008 | Her Majesty's Ambassador, Vilnius |
| 2001 – 2004 | Tokyo, Political Counsellor |
| 1998 – 2001 | FCO, Head, EU Common Foreign and Security Policy Department |
| 1997 – 1998 | Paris, First Secretary for Politico-Military Affairs |
| 1995 – 1996 | FCO, Head of Justice and Home Affairs Section, European Union Department (Internal) |
| 1995 | FCO, Head of Gibraltar Section, European Union Department (Internal) |
| 1993 – 1994 | Tokyo, First Secretary for Political Affairs |
| 1990 – 1992 | Tokyo, Second Secretary for Economic and Financial Affairs |
| 1990 | FCO, Economic Advisers |
| 1989 – 1990 | FCO, Desk officer for the Republic of Ireland |
Published 21 December 2012